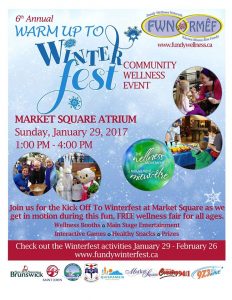 It's back! Your favourite must-attend winter wellness fair! The 6th Annual Warm Up to Winterfest promises a fun, family event that will educate and entertain. Enjoy the interactive games, healthy snacks, main stage entertainment, prizes and all these informative booths that will inspire you to live well in winter here in Greater Saint John!
Join us on Sunday January 29th, 2017 from 1-4 pm in the Market Square Atrium!
Kids activities include: Hockey shot game, balloon animals, face painting and crafts
Performances by: KV Country Band, Atlantic Freestyle Canine Team, DanceZone and Harbour View Chazz Choir
Featuring …
12 Weeks 12 Walks, Athletics New Brunswick, Atlantic Superstore, Bike Works, Canada Games Aquatic Centre, Canadian Mental Health Association of New Brunswick, Dr. Brown Henderson, Eastern College Massage Therapy, Fundy Sports and Tourism, Gardening Gurus, Go Ahead Seniors, Kennebecasis Valley Oasis Youth Centre, Live Well! Bien Vivre!, MADD Saint John and Area Chapter, Nature Spa Chance Harbour, New Brunswick Museum, New Brunswick Organ and Tissue Program, New Brunswick Physical Literacy, New Brunswick Wellness Movement, Parks New Brunswick, Public Health Saint John, Recreation New Brunswick, Saint John Audiology, Saint John Boys and Girls Club, Saint John Free Public Library, Sleep Apnea-Quality Respiratory Care, Sobeys, St. Joseph's Community Health Centre, Stonehammer UNESCO Geopark, Sweet Caroline Foundation, The Work Rooms, YMCA of Greater Saint John, Zoomers
This event is proudly sponsored by the New Brunswick Department of Social Development – Wellness Branch, Acadia Broadcasting Ltd., and Market Square with support from the City of Saint John, the Town of Rothesay, the Town of Quispamsis and the Town of Grand Bay-Westfield.
FREE wellness fair for all ages!
For more information visit www.fundywellness.ca
Also check out the Winterfest activities taking place in the Greater Saint John Area from January 29th through February 26th on their website at www.fundywinterfest.ca