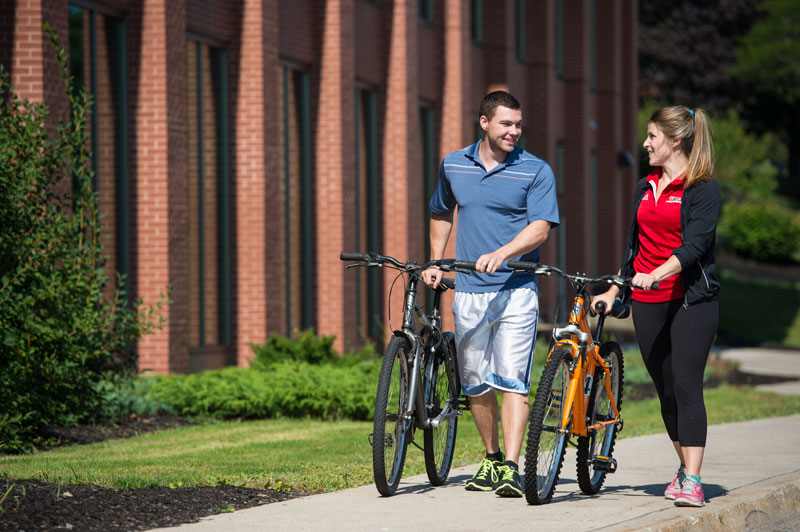 The University of New Brunswick will hold public consultation sessions to develop one of the region's first university climate change action plans.
Canada has committed to reduce 2005 levels of greenhouse gas emissions by 17 per cent by 2020. New Brunswick has committed to a 10 per cent reduction of 1990 levels by 2020 and 75 per cent reduction in 2001 levels by 2050.
UNB is holding several public consultation sessions, which will inform the creation of a climate change action plan that the university expects to implement by 2019.
George MacLean, UNB's Vice-President Academic (Fredericton), says the university is a leader on this file, thanks to the work of the university's SustainabilityAdvisory Committee.
"UNB has met the 2007-2012 Province of New Brunswick's Climate Change Action Plan goals and we're now developing our own plan to ensure we meet or exceed the 2020 goals," said Dr. MacLean. "We are among a few universities in the region to go through this process thanks to the hard work of UNB's Sustainability Advisory Committee."
Robert MacKinnon, UNB's Vice-President Saint John, says he's pleased to see this important project move ahead.
"The university recognizes that climate change is one of the most urgent issues facing our society today," said Dr. MacKinnon. "With two campuses in New Brunswick, we look forward to working with our communities to ensure that we're doing our part."
Danielle Smith, UNB's sustainability coordinator, says the creation and delivery of a climate change action plan will be done in a way that will engage the UNB and greater community in climate change related issues.
"In order for this plan to be successful, we need as much input as possible," said Ms. Smith. "We hope to hear from many students, staff, faculty, and community members so we can capture a well-informed vision for sustainability and climate change action at UNB." This project is generously supported by the Government of New Brunswick through the Environmental Trust Fund.
"We are proud of the many innovative initiatives supported through the Environmental Trust Fund over the past year," said Environment and Local Government Minister Serge Rousselle. "I would like to commend the University of New Brunswick's initiative to develop a climate change action plan as this is a priority for the provincial government and we are also working on developing a strengthened Climate Change Action Plan for New Brunswick. It is by working together as a society that we will be able to address the challenges we face related to climate change."
The UNB Saint John community will have the opportunity to provide input on Wednesday, November 30th, from 12:30-2:30 pm in the Thomas Condon Student Union Building Whitebone Lounge where a pizza lunch will be provided.
UNB students, faculty, staff and community members are asked to join these sessions to provide their input around sustainability and climate change adaptation and mitigation on campus. For those who are unable to come, feedback can be submitted to sustain@unb.ca.