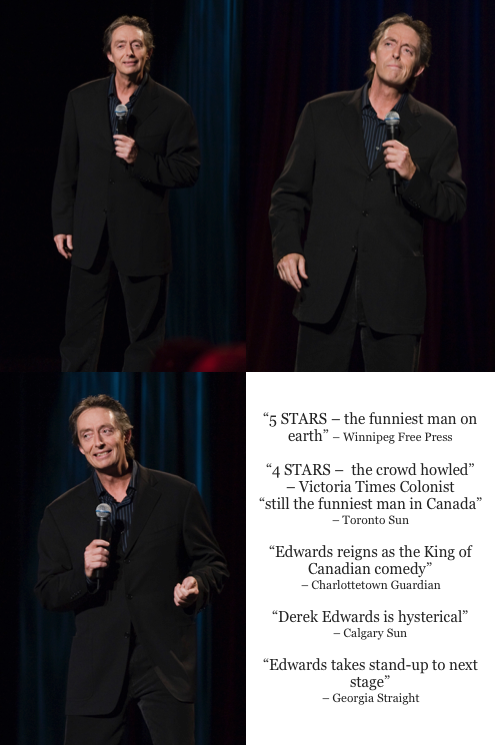 Derek Edwards new show Alls I'm Saying rolls into the Imperial Theatre on March 26th, 2017 at 7:30 pm.
Tickets are $45 and go on sale to the general public this Friday December 2nd, 2016.
For tickets call the Imperial Theatre Box Office at 674-4100, drop by the Box Office in person at 12 King Square South, or go online to purchase off the website at imperialtheatre.nb.ca.
Alls I'm Saying is brazenly tentative! Like a sniper with the hiccups, Derek Edwards takes aim at life's galling moments, exhales slowly and jerks back the trigger.
A riotous evening of homegrown comedy — like taking a ride in an open golf cart with a good friend and a six pack.
From Vegas to St. John's, this Just For Laughs veteran is universally considered to be among the comic elite.
Certainly his peers think so, as evidenced by the fact that he's a four-time nominee, and winner of Best Standup Comic – Canadian Comedy Awards, as well as a multiple Gemini nominee for Best Performance in a Comedy.
As Rick Mercer says, "Everyone knows Derek is the funniest man in Canada."
Alls I'm Saying – Derek Edwards' new 90-minute stand-up comedy show is a richly textured and enthralling "cut above," delivered with pace and authority by the consummate Canadian Comedian.
"the epitome of timing & storytelling"
– Halifax Chronicle Herald
"the comedian's comedian"
– London Free Press
Get your tickets early! You won't want to miss this hilarious show at Saint John's Imperial Theatre on Sunday March 26th, 2017.