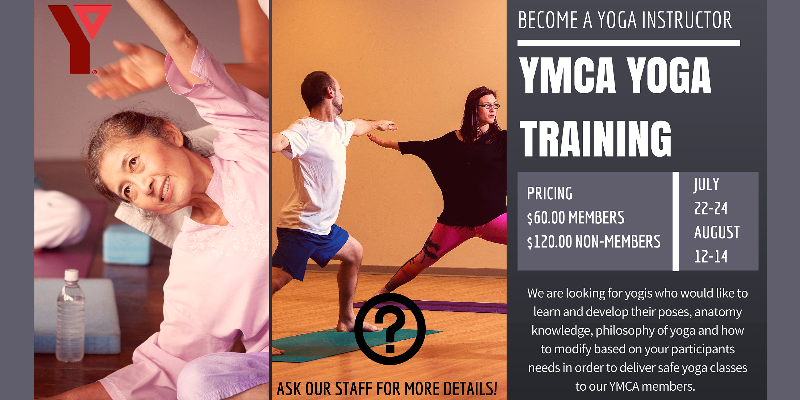 Do you have a regular yoga practice?  Are you interested in developing a deeper knowledge of yoga and its history?  Join us and build on your foundation to create a lifelong learning journey through the YMCA Group Fitness Yoga Leader certification offered this summer!
 Pre-requisites for Participation
16 years of age at the time of certification
First Aid and CPR at the time of certification
50 hours+ of participation in yoga classes recommended
Volunteer with the Saint John Regional Y! We strongly believe in growth and development and are here to provide opportunities to our community to learn and to give back. The YMCA provides continuous learning opportunities for our seasoned and new volunteers.  If you are interested in becoming a Volunteer Group Fitness Yoga Leader, please contact the Welcome Desk for more information.
Class Requirements
We will need to have a minimum of 5 participants in order to run this certification program.  Register at the Welcome Desk by 5 pm Friday, July 15.  If the course does not run due to low enrollment, your fee will be fully reimbursed.  A $20.00 cancellation fee will apply after July 15.
For more information visit www.saintjohny.com