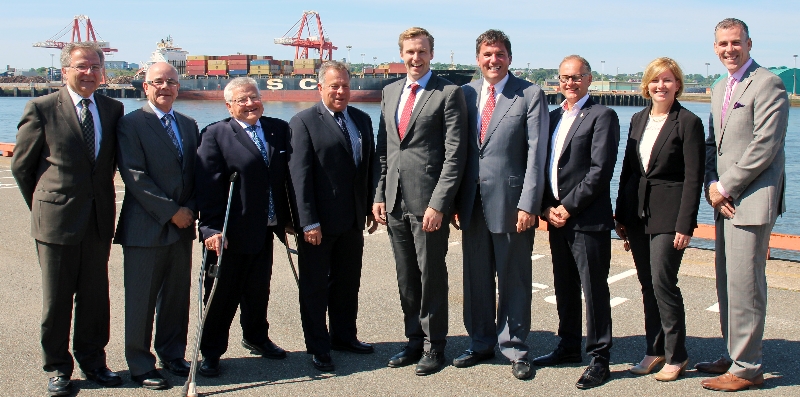 The provincial and federal governments have jointly invested more than $136 million to modernize Port Saint John's west side terminals.
"The provincial and federal investment in Port Saint John will create thousands of jobs. It will also help ensure that New Brunswick businesses are able to export and import competitively," said Premier Brian Gallant.
The project will modernize and consolidate the Rodney and Navy Island terminals, allowing the port to accommodate larger vessels. New operational systems and technology will also be installed to enhance cargo-handling capabilities.
"Thanks to the strong relationship between our government and the Trudeau government, we can work together to support projects such as Port Saint John, which will help strengthen economic growth for the port city, the Fundy region and our province," said Service New Brunswick Minister Ed Doherty.
Doherty spoke on behalf of Post-Secondary Education, Training and Labour Minister Donald Arseneault, who is also minister responsible for the Regional Development Corporation.
The port, Atlantic Canada's largest port in terms of tonnage, is a vital link to shippers and receivers and handles goods and individual consumers while supporting the manufacturing economy. Once completed, the project will increase the competitiveness, productivity, efficiency and prosperity of Canadian businesses. The port will also be able to meet the needs of changing cargo traffic volumes for all forms of cargo through deeper berths, stronger piers and enhanced cargo-handling capacity.
"We are making investments that will improve the quality of life for our middle class now while building a strong foundation for the sustainable economy of the future," said federal Fisheries, Oceans and Canadian Coast Guard Minister Dominic Leblanc. "These improvements at Port Saint John will provide the people and businesses of New Brunswick with new economic opportunities and create good and well-paying jobs. It is thanks to projects like this that we will build 21st-century communities and ensure a high quality of life for generations to come."
LeBlanc spoke on behalf of Infrastructure and Communities Minister Amarjeet Sohi.
The total estimated cost of the project is $205 million, with $68.3 million coming from the federal government through the National Infrastructure Component of the New Building Canada Fund, and $68.3 million coming from the provincial government. Port Saint John is responsible for the remainder of the project costs.
"Our board and management team, together with our stakeholder community, have been working on the west side modernization file for the past five years", said Peter Gaulton, chair of the port. "Today, we are officially able to move forward with a project that makes business sense for the port community today and also for future generations of users. We are pleased that the provincial and federal governments are joining with us on this generational investment that will further solidify the position Port Saint John holds as one of our nation's leading international seaports, providing vital stimulus for regional and national economies."
Port Saint John is a year-round, deep water port that handles an average of 28 million tonnes of diverse cargo annually. With global connections to more than 350 ports around the world, it is a major facilitator of trade and is part of Canada's Atlantic Gateway to global marine markets. It also harbours cruise ships in the Canada-New England market.