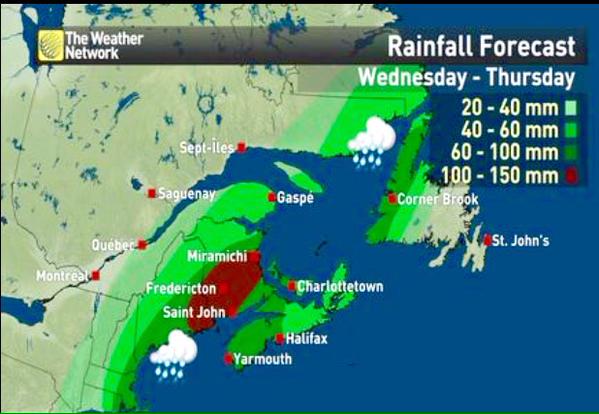 Environment Canada has issued rainfall warnings beginning late today and continuing into Thursday. Local forecasts are suggesting some areas could get 100 mm or more of rainfall, with the heaviest rainfall expected Wednesday evening and night.
The safety of our citizens is our number one priority. City crews are out checking and clearing inlets and outlets, clearing catch basins, and taking an inventory of signage and barricades. Saint John EMO will monitor and is prepared to respond if necessary.
Those who live in low-lying areas that have been prone to flooding are reminded to take extra precautions to protect themselves and their property. Residents should ensure proper drainage around their home by clearing eaves troughs and drainage swales, as well as catch basins or ditches on or near their property.
With heavy rains, road conditions can deteriorate quickly and localized flooding can occur. Motorists are asked to drive with extreme caution; observe all barricades, signage and direction from public safety personnel; and avoid driving through flooded areas, whether marked or unmarked, due to unknown depths and hidden hazards such as sink holes and missing man hole covers. Driving through flooded areas can cause damage to homes, businesses and personal property, and can leave drivers and passengers stranded.
To prepare for the event of a prolonged power outage, citizens are reminded to have everything they need for at least 72 hours following a storm. This includes preparing an emergency kit for home and car. An emergency kit should include food, water, batteries, a battery-powered radio, first-aid supplies and any special items such as prescriptions, infant formula and equipment for people with disabilities.
To report flooding, contact the City's Customer Service at 658-4455
To report a power outage, contact Saint John Energy at 658-5252
For emergencies, call 911
For information on reducing the risk of a flood, visit www.saintjohn.ca/en/home/cityhall/transportation/stormwatermanagement/flooding.aspx