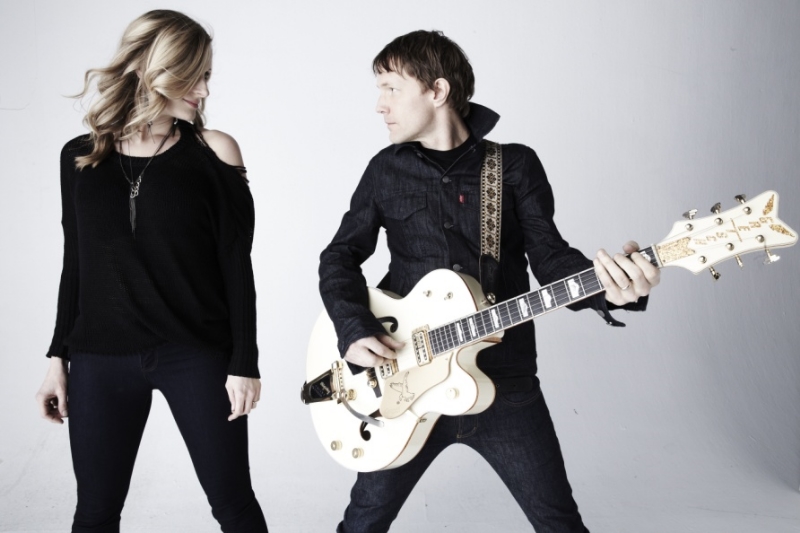 The Imperial Theatre is proud to present the Canadian duo Whitehorse on Friday, October 9th at 8 pm. Tickets are on sale at the Imperial Theatre Box Office for $32 per adult. Subscriber tickets are $26 each and Student RUSH tickets are $20.
Whitehorse is the story of two acclaimed musicians joining forces under one new name – no drummer, no keyboard player, violinist or even bass player on call, and no producer – just Luke Doucet and Melissa McClelland. On stage, they present a full band sound using live loops, bits and pieces percussion, and swapping guitars left, right and centre.
The first album and EP demonstrate the success of this simple equation, one plus one, with an abundance of guitar slinging, songwriting expertise and white-hot desire. Formed in 2010 by husband and wife solo musicians Luke and Melissa, the two toured in each other's bands for years, but they put aside their award winning individual careers to build a new band out of their exceptional guitar playing, his and her harmonies and a flair for dramatic, narrative songwriting. Whitehorse has since been nominated for the Polaris Short List (2013) for The Fate of the World Depends on This Kiss, played sold out shows across Canada, and established itself in the USA as a band to watch with stellar reviews.
Their more recent full-length album Leave No Bridge Unburned boasts more of everything that makes Whitehorse exciting and innovative – it's Whitehorse amplified, increased, intensified. Leave No Bridge Unburned is all about surging ahead; there's nothing to lose and no way to return.
Described by the Globe & Mail as the "Warren Beatty and Faye Dunaway of Canadian roots rock" this couple brings it to the stage. These artists are going places fast – from their sold-out debut at Massey Hall to SXSW in Austin to the Montreal Jazz Festival to Saint John's own Imperial Theatre.
Tickets for Whitehorse are on sale at the Imperial Theatre Box Office, 24 King Square South. Telephone (506) 674-4100 or 1-800-323-SHOW (7469) or email boxoff@imperialtheatre.nb.ca. The Box Office is open Monday to Friday from 10 am to 5 pm. On show days, the Box Office will open four hours prior to showtime. On show evenings, the Box Office is open until the end of the intermission.