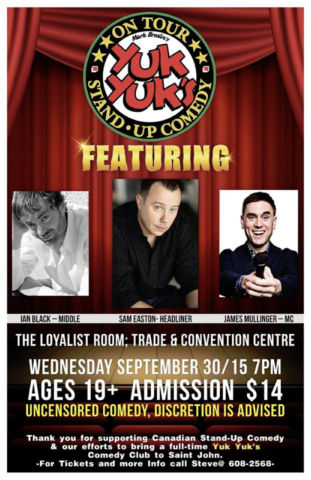 Get ready for some uncensored comedy as Yuk Yuk's Comedy Tour reaches Saint John! Tickets are now available for the first of several Yuk Yuk's On Tour events happening next Wednesday, September 30th at 7 pm at the Saint John Trade & Convention Centre in the Loyalist Room.
This show features a hilarious line-up of some of Canada's top comics! Comedians Ian Black and Sam Easton will take the stage with "Londoner to Maritimer" James Mullinger as the emcee.
Tickets are $14 and available to ages 19 and above, discretion is advised.
Thank you for supporting Canadian stand-up comedy and our efforts to bring a full-time Yuk Yuk's Comedy Club to the region.
For tickets and more information call Steve at 1.506.608.2568.
Yuk Yuk's stages across Canada have paved the way for very funny and now very successful Canadian comics over the last 39 years, such as Mike MacDonald, Jeremy Hotz, Russell Peters, and American favourites like Jerry Seinfeld and Jay Leno.
Between September 30th and December 31st, Yuk Yuk's On Tour will be hosting several comedy events in Uptown Saint John in an effort to create awareness of our goal to open a full-time Yuk Yuk's franchise in the Port City.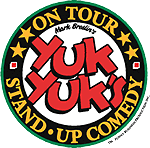 Partnering with Historica Developments, the goal is to secure a venue in the new Entertainment Hub of Saint John in Grannan Lane. (Across from Port City Royals). Organizers believe this comedy club will truly fill a void in Saint John's night life experience.
Come check out one or more of the Yuk Yuk's On Tour shows, support Canadian comedy, and support this vision of this unique venture in Uptown Saint John.
Let's Bring Some Laughter to Saint John!