The City of Saint John announced the official name of the public space that is part of the new waterfront redevelopment area at Monday's Common Council meeting. Council voted in favour of the Civic Commemoration Committee's recommendation to name the space Ihtoli-maqahamok – The Gathering Space (ee-doe-lee MAH-qwah-HA-muck).
The name, which comes from the Wolastoqey language, acknowledges the location's role as an important gathering space. Located just beyond the intersection of King and Water streets, Ihtoli-maqahamok – The Gathering Space, is the city's newest community space as part of the larger waterfront development project.
For many decades the space has been used for community gatherings. More recently, it provides access to some of Saint John's finest restaurants, local shops, and the Saint John Free Public Library.
Now, the space is being reinvigorated and reimagined, with the addition of community-focused infrastructure that include a skating rink, indoor/outdoor patios, a stage for concerts, film screenings, and other special events. It will also include space for craft and food vendors, and easy access to enjoy the waterfront.
The design elements of Ihtoli-maqahamok – The Gathering Space are rooted in three foundations of the City: the people, the water, and the rocks. It will be a significant landmark and a place of togetherness. A destination, and a meeting place for locals and visitors to come together.
To familiarize yourself with the definition and pronunciation of Ihtoli-maqahamok, we encourage you to visit the Passamaquoddy-Maliseet language portal:
Definition: https://pmportal.org/taxonomy/term/1637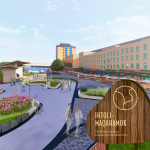 Pronunciation: https://pmportal.org/dictionary/ihtoli-maqahamok
For more information including a background and FAQ, click HERE.
Source City of Saint John