On Behalf of Staff Sergeant Sarah Hobbs
With just over a month until Christmas Day, residents have or will begin their holiday shopping. The Saint John Police Force would like to offer a few safety tips in relation to on-line and in-person buying.
–Don't click on links to "deals" that are sent via email.   
Shop only from trusted sources.    -.    Ensure your network connection is secured,  -Install and update your anti-virus software lock your devices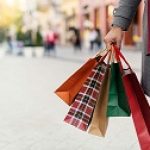 -Pay safely, -Monitor your account
If shopping in person, remember to:
–Be aware of your surroundings
-Try to park in well lit areas and lock your vehicle
-Do not leave your purchases in plain sight in your vehicle
-Protect your PIN when using debit or banking machines
-Remove all your purchases from your vehicle when returning home
Have a safe and Happy Holiday!
Jim Hennessy
Manager of Communications
1-506-632-6138