Give the Gift of P.R.O. Kids
This November and December local sport, art and music champions within the Greater Saint John community will be encouraging residents and organizations to give the gift of P.R.O. Kids this holiday season.
On Friday, December 10 beginning at 10:00 a.m., P.R.O. Kids and K-100 radio station will be broadcasting live from TD Station, where P.R.O. Kids will be accepting in-person donations. Individuals, businesses, and organizations are encouraged to stop by and donate throughout the day.
Now more than ever, children and youth in our community need our support. Giving the gift of P.R.O. Kids means more children and youth can benefit from sport, recreation, art and cultural activities their families couldn't otherwise afford.
Both online and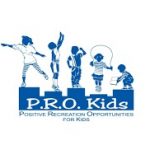 in-person donors will be entered in a draw to win free tickets to the Saint John Sea Dogs home game on Saturday, December 11 against the Charlottetown Islanders. The Sea Dogs' retail store will be offering a 10 per cent discount throughout the broadcast and Fleaburn will be in attendance from 12:00 p.m. – 1:00 p.m.
Give the Gift of P.R.O. Kids is proudly presented by UCT's Jack Kidd Council 755 and sponsored by Emera New Brunswick.
To donate, visit www.givetoprokids.ca