Power Up! Saint John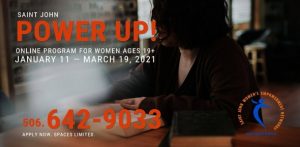 POWER UP! is a FREE 10-week leadership empowerment training program designed to help all women 19+ take the next step in life.
Your next step can be toward employment, training, education, or community engagement. Whichever direction you choose, POWER UP! will help you get there!
We'll show you skills that help set personal goals, work with others in a group learning environment, strengthen your voice, problem solve, team build, and handle leadership.
Apply today, spaces are limited! To register, call 1-506-642-9033.
This event is hosted and sponsored by the Saint John Women's Empowerment Network – SJWEN and be sure to "view", "visit" and "like" their Facebook page at: https://www.facebook.com/SaintJohnWEN