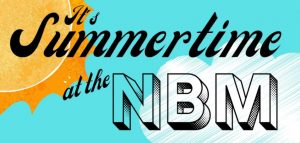 Summertime at the New Brunswick Museum
From Tuesday, July 14th, 2020 to Saturday, August 29th, 2020, Join the New Brunswick Museum for seven weeks of themed fun this summer!
The New Brunswick Museum is located in Market Square, in Uptown Saint John, Saint John, New Brunswick.
Week of July 14th to 18th, 2020 – Under the Sea: Marine Life of the Bay of Fundy
Get ready to dive into the learning at the NBM as we spend a week discovering the amazing marine life of the Bay of Fundy.
Get the inside scoop as we look at skeletons of all sorts of sea creatures – from whales to sharks are more!
Week of July 21st to 25th, 2020 – We dig the NBM: Geology Week
New Brunswick rocks – and so does our geological history!
Join us for a week of exciting fossil finds as we go back through time and uncover almost a BILLION years of stories – all found in the rocks of our province!
Week of July 28th to August 1st, 2020 – Conservation Week
Calling all environmental superheroes! Are you up for a challenge?
This week we'll be learning about conservation and taking care of nature. Learn how YOU can save the environment and take part in the NBM's Conservation Challenge!
Week of August 4th to 8th, 2020 – A Land Called NB: New Brunswick Heritage Week
Did you know that people have been living in New Brunswick for 13,000 years?
Come find out about the many diverse people who have populated a land we now call NB as we take a trip through the history of our province!
Week of August 11th to 15th, 2020 – Vive L'Acadie – Acadian Week
August 15th is Acadia Day, so we're taking one whole week to celebrate the history and culture of L'Acadie! Come take part in a tintamarre, learn how to play the wooden spoons, take in some song and dance, learn to make a tasty Acadian treat and so much more!
Week of August 18th to 22nd, 2020 – Dinos of the Modern World: Birds and Dinosaurs Week
Did you know that dinosaurs still walk among us? Birds are descendants from animals that walked on earth millions of years ago.
Come learn about modern birds and their ancient relatives this week at the NBM!
Week of August 25th to 29th, 2020 – Week of the Arts: Art and Music at The NBM
This week is all about the arts as we become artists and musicians ourselves in order to to better understand New Brunswick's rich artistic heritage!
Be sure to visit the New Brunswick Museum on the web at: https://www.nbm-mnb.ca/, "view" and "like" on Facebook, follow on Twitter, Instagram and Trip Advisor!