Book Signing: Seasonal Snippets and Memories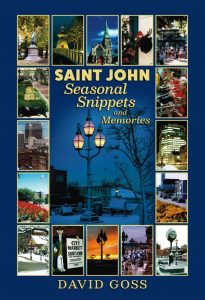 David (Dave) Goss is having a second book signing for his new book: Seasonal Snippets and Memories on Saturday August 1st at Loyalist City Coins from 1-3PM.
The cost of each book is $20.00 each.
SEASONAL SNIPPETS is a follow-up to the well received Saint John Snippets book of 2016.
This new book is 200 pages folk and local lore, trivia and historical happenings culled from local newspapers published from the early 1800's to the present day.
A few Saint John Snippets (precursor to the new book) will also be for sale at $15.00
Please come prepared to observe all Covid-19 precautions.
The book may be purchased by mail by contacting the author at gosswalk@nbnet.nb.ca.
E. Harold Wright has some copies of Seasonal Snippets if you can't make it to this book-signing.
You can Facebook message him at: https://www.facebook.com/eh.wright.5 for more details.
It also currently available at Coles, Indigo, NB Museum, Baybreeze Restauruant, Pocologan and at The General Store in Sussex and soon in Chapters in Fredericton and Moncton.