Marathon by the Sea 2020 – August 21st to 23rd, 2020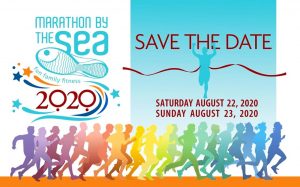 Join us at Marathon by the Sea in Saint John, New Brunswick. The region's most challenging Boston qualifier is also the east coast's only summertime race event – a great way to spend a family weekend in August. Running seaside with the ocean breeze upon your face, you'll experience the full maritime hospitality of the only city on the spectacular Bay of Fundy. Marathon by the Sea offers a full roster of races and events – with an emphasis on fun! Experience local entertainers along the routes; volunteer-run water stops that compete for best-in-race costumes and service; pre-race entertainment; great food; and a terrific awards ceremony. So join us in a citywide celebration of fun, family, fitness!
MBTS is excited to present the 2020 schedule of events and the Port City Challenges. Can't wait to see you there!!
2020 Marathon by the Sea Event Weekend
Friday August 21, 2020
4:00 pm to 8:00 pm Registration & Packet Pickup only
Saturday, August 22, 2020
9:00 am – 8:30 pm Registration & Packet Pick Up
10:00 pm – 8:00 pm Health & Wellness Expo
10:00 am Registration JDI Harbour Hustle Kids Run
11:15 am 200m run for kids ages 6 and under
11:30 am 1 km run for kids ages 7 – 12
2:00 pm – Colour by the Sea 4 Km Run
4:00-6:00 pm Ultimate Pasta Party at Market Square
9:15 pm Into the Night 5 Km & Fireworks Extravaganza
Sunday, August 23, 2020
6:00 am – 7:00 am Packet Pick Up Only
7:45 am Pre-Race Instructions
8:00 am Marathon, Half Marathon, Marathon, WTF 30 Km training Run, WTF 16 Km Training run
8:20 am 10km, 5km – Start
Port City Challenge Events
Pick one of 4 Port City Challenges. All 3 events are included in a single registration
14 Km Challenge (Colour by the Sea 4 Km, Into the Night 5 Km, Marco Polo 5 Km)
19 Km Challenge (Colour by the Sea 4 Km, Into the Night 5 Km, GoodLife 10 Km)
30.1 Km Challenge (Colour by the Sea 4 Km, Into the Night 5 Km, 21.1 Km Half Marathon)
51.2 Km Challenge (Colour by the Sea 4 Km, Into the Night 5 Km, Marathon 42.2 Km)
Find this event on Facebook at: https://www.facebook.com/events/796592304152315/
To register go to https://www.events.runningroom.com/site/?raceId=16807
"View" and "Like" Marathon on the Sea on Facebook at: https://www.facebook.com/marathonbytheseasj/?eid=ARDzgncW9_uc_ZVIga3L3hr5YP7v-EDAC9nugiREwFZDHtQLwyBJ1VjxXPEiKjteQoUo-gnQu9-h22mL