2020 Everyone's Children Luncheon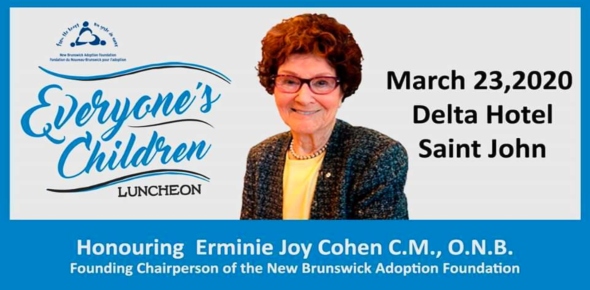 Please join us at the 2020 "Everyone's Children" Luncheon in support of the New Brunswick Adoption Foundation's work in promoting and supporting the adoption of children in the care of the province.
Monday, March 23rd, 2020 from 11:30 am to 1:00 pm at the Delta Hotels by Marriott Saint John 39 King Street, Saint John, New Brunswick E2L 4W3.
This year will be extra special in that we will be honouring the late Erminie Cohen, our founding chairperson. To celebrate her legacy and caring contribution to so many causes and specifically to families, children and adoption, the luncheon will include the unveiling of an annual award sculpture (generously funded by NB Senators past and present) created in her name, the Erminie Cohen Compassion Award.
As in previous years we will raising awareness of the needs of children in care to have a family they can truly call their own. As you may know, the numbers are overwhelming especially for teens who are most of risk of "aging out" of care. Of the 417 children in the permanent care of the Province, well over 50% are over the age of 11 with 35% (147) aged 15 to 18. The proceeds of the Luncheon will be used for our adoption support work with families pre and post adoption as well as our awareness work.
HOSTING A TABLE
If you are interested in hosting a table , there are a couple of ways to do it:
You can personally host a table of 10, and you and your guests donate in the amount you choose.
(Donations can be made by cash, credit or cheque at the event)
OR
Your company or organization hosts a table of 10, and commits to a minimum donation of $1000.
(We can invoice you prior to the event.)
To reserve a table or for more information email: info@nbadoption.ca or visit : https://en.nbadoption.ca/events-links/everyones-children-luncheon
Find the event on Facebook at: https://www.facebook.com/events/582335335650678/