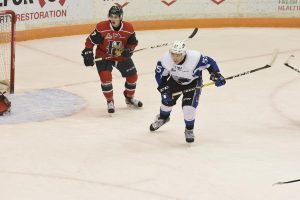 The Saint John Sea Dogs have announced three players have been reassigned from their training camp roster.
The following players are no longer in camp:
RW Matthew Pietroniro
F Luke Wilson
D Thomas Ashe
There are 38 players remaining in camp: four goalies, 13 defencemen and 21 forwards.
The Sea Dogs' next pre-season game is tonight at 7 pm against the Acadie-Bathurst Titan. It's Saint John's only pre-season game at Harbour Station this year.
Tickets are available at the Harbour Station Box Office and online.
Sea Dogs Season Tickets are available now at the Harbour Station Box Office. Click HERE for more information. Fans wishing to buy using a payment plan can do so at the Sea Dogs Administration Office on the pedway level of Harbour Station.