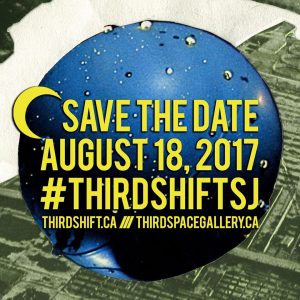 THIRD SHIFT is a labour of love and we count on volunteers to bring it all together. We're looking for individuals to help in the following areas:
1. General Event Set Up: Between 2 pm and 8 pm on the day of THIRD SHIFT (Friday, August 18th). Tasks will include: Lifting materials to project sites, helping with set up, coordinating with artists and THIRD SHIFT committee members. Required Skills: Light to heavy lifting, good communication and problem solving skills. You will be working with artists to turn their brainwaves into reality!
2. Event Guides: Ideally available two weeks before the event to become acquainted with THIRD SHIFT projects. Tasks will include: Leading the public through the event, handing out event maps and giving directions, providing information about the projects. Required Skills: Strong communication skills and good interpersonal skills are required for this task.
3. Parking Patrol: From 12 pm to 7 pm, the day of THIRD SHIFT. Tasks will include: Passing out flyers, posting flyers to cars in the area to inform the public about the street closure and answering general questions about the event!
4. Event Clean Up: Available between 11 pm and 2 am, the night of THIRD SHIFT. Tasks will include: disassembling projects, transporting materials, cleaning up any debris. Required skills: Light to heavy lifting, organizational skills (for loading supplies into vehicles: Tetris players preferred)
Email Kate at thirdshiftassociate@gmail.com  and let us know if you can lend a hand.
THIRD SHIFT is an annual night time exhibition of public contemporary art projects presented by Third Space, a not-for-profit artist-run centre in Saint John, NB. Established in 2015, this event aims to offer Saint John residents a unique opportunity to re-imagine their city, activate vacant and under-utilized areas and engage with the surroundings of the Uptown environment.
Participating artists reflect on the area's cultural landscape and historic architecture to develop their projects and exhibit the works. THIRD SHIFT highlights the work of emerging and established artists who cross disciplines and boundaries in their examinations of contemporary culture. All activities established by THIRD SHIFT are free and open to the public. This year's event will take place on Friday, August 18th from 7 pm – midnight.