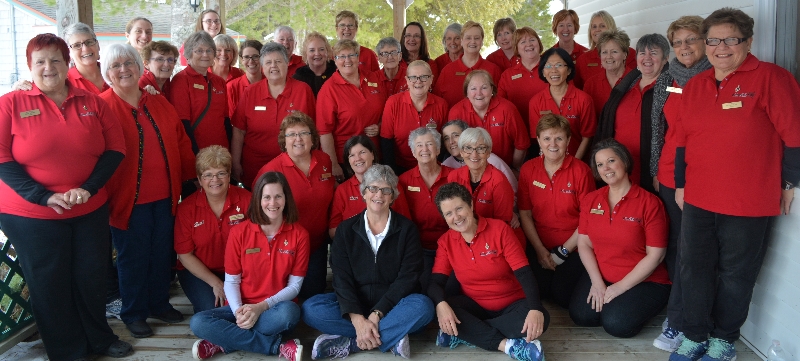 Sea Belles ladies' a cappella chorus recently held a weekend music retreat with chorus director, certified music judge and coach, Kathy Greason. The retreat was held in preparation for the Area 1 (Atlantic) Competition and Contest of Harmony, Inc., this June in Sackville, NB. Financial assistance for this retreat was made possible with funding from Sing Canada Harmony Scholarship Fund. This is the third year Sea Belles Chorus has received this funding support.
The chorus prepares for these competitions by inviting internationally known coaches to mentor and direct them to improve overall presentation, singing and musicality. Sing Canada Harmony is a registered Canadian charity that provides financial assistance to deserving Canadians of all ages through scholarships and grants for education and training in all aspects of music performance, leadership, directing, arrangement, adjudication and staging.
Following the workshop, Sea Belles' director Janet Kidd stated: "A huge thank you to Sing Harmony Canada for helping fund Sea Belles' coaching weekend with Kathy Greason. (There were) many thoughtful discussions, and a terrific plan for each of our two new competition songs, If You Love Me and The Joint is Jumpin." Adds Kidd, "(It was) a hugely successful coaching weekend that has helped and encouraged us musically, and brought us even more closely together as a powerful social unit."
At the conclusion of the weekend workshop, Ms. Greason had this to say about the chorus: "In both rehearsal and performance, Sea Belles reflect what hard work and a goal of excellence can achieve. Their mastery of the art of a cappella singing allows them to lift their music off the printed page and perform it with heart and soul."
Sea Belles share their love of singing by entertaining at community and charitable events. Following a recent performance for students of St John the Baptist School, the chorus has been invited by Music Specialist Jillian Little to sing with their students as part of a national music event on May 1 called Music Monday- Coast to Coast, Sea to Sea. Supported by Sing Canada Harmony, this one day event showcases music in schools and communities spreading east to west across the country. Any school or community group can participate in Music Monday. More information at www.musicmonday.ca.