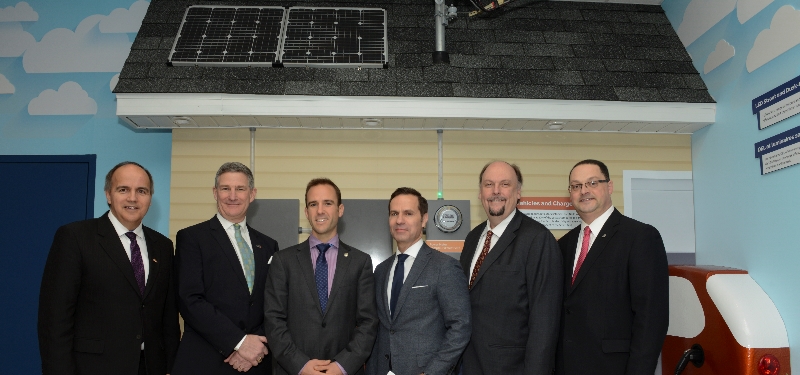 Siemens Canada, NB Power and the University of New Brunswick (UNB) are providing local and global companies with a new testing platform to drive innovation and support business ideas for development and export to world energy markets.
The Smart Grid Innovation Network (SGIN) officially launched January 28th.
"The federal government is committed to supporting innovation that helps to fight climate change and promote sustainable growth," said Innovation, Science and Economic Development Minister Navdeep Bains, who is also minister responsible for the Atlantic Canada Opportunities Agency (ACOA). "We are proud to support the Smart Grid Innovation Network, a world-class energy management partnership with the potential to introduce sustainable energy sources to the power grid, and reduce energy waste. This new initiative represents an important and positive step forward for clean energy and sustainable economic development."
"We are focused upon creating the right environment for innovation to flourish to help create jobs and grow the economy," said Energy and Mines Minister Donald Arseneault. "This partnership will support local businesses and entrepreneurs while positioning New Brunswick as a centre of excellence to attract companies that want to develop and test smart grid technology. It is a great example of local and international leadership working together to develop innovative ways to make New Brunswick a world leader in smart grid technology."
SGIN will offer businesses a venue to design, develop and test smart grid related products and services, offering aspiring start-ups and established companies a testing environment to overcome technology hurdles.
"This Smart Grid Innovation Network is Siemens' newest investment in New Brunswick, and we are incredibly excited about SGIN as a catalyst for innovation and development in the business community with smart grid ready products and services as the outcome – not only to support smart grid deployment here in New Brunswick but to promote it throughout the Siemens world and beyond," said Robert Hardt, president and CEO of Siemens Canada.
The SGIN is comprised of three interconnected labs, each with a number of virtual and physical lab elements. These include:
Smart Grid Research Lab at the University of New Brunswick;
Interoperability Lab at Siemens; and
Products and Services Lab at NB Power.
"While our primary goal is to transform the electricity system in New Brunswick to bring customers greater value and services, we also have a tremendous opportunity here to help local businesses get their smart energy products market-ready," said NB Power president and CEO Gaëtan Thomas. "This new network will provide local and global companies a chance to build on the research and development already happening here and promote greater innovation for the benefit of New Brunswickers."
Beyond the physical labs, SGIN is intended to offer a single point of contact for local and global companies for smart grid related development and testing, as well as provide research and development testing. To assist this, SGIN will host workshops and conferences to engage and exchange knowledge among users and potential users of the network.
Siemens will invest more than $1 million in funds and in-kind support over the next five years into the SGIN and its testing environment, known as the Interoperability Lab. NB Power will invest about $2 million in funds and in-kind support in its Product and Services Lab; and UNB has committed more than $2 million in cash and in-kind support, including National Science Engineering Research Council project research funding, to the venture.
At the government level, SGIN is receiving a non-repayable contribution of $2 million from the federal government through ACOA's Business Development Program to UNB for the creation of a Living Lab that will support the smart-grid power management research and development activities.
In addition, Opportunities NB is investing $840,000 on behalf of the provincial government.
"At UNB, we are incredibly proud to be at the forefront of smart grid research and development," said David Burns, vice-president of research at the university. "Our collaboration with NB Power and Siemens on the Smart Grid Innovation Network is one of the many examples of the rich eco-system of innovation we have in this province. Investments such as the SGIN are incredibly important to the work we do at UNB and enable our researchers to work together with other stakeholders and innovators to the benefit of all. We see immense potential for the SGIN to foster the co-creation of intellectual property at the cutting edge of smart grid technology."