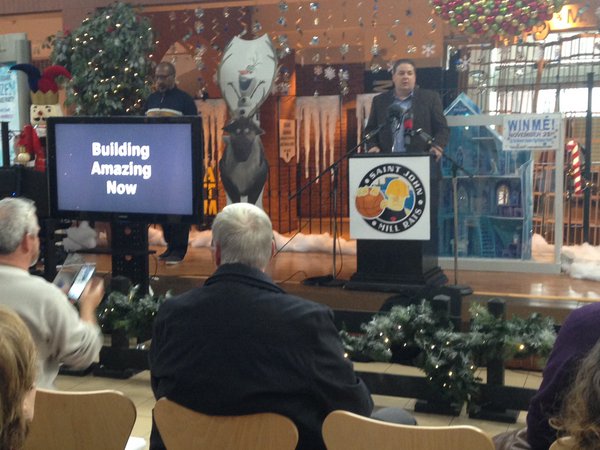 The Saint John Mill Rats are excited to announce that Canaport LNG is providing fans with 6000 complimentary tickets for the December 23rd pre-season game at Harbour Station as a symbolic gift to the City.
Canaport LNG General Manager Pedro Boyra said, "When it comes to the community in which we operate, Canaport LNG is committed to helping our city thrive. For us, that means supporting the vitality of our community through the areas of education, environment and recreation activities for youth."
He added, "We are very excited to partner with the Saint John Mill Rats. The Mill Rats are entering their 6th season in Saint John and have demonstrated over, and over, and over their commitment to helping the city thrive and the youth in the region."
All area schools will receive vouchers that can be redeemed on a first come, first serve basis for seats at the Harbour Station Box Office in person. Forest Hills School, the site of the announcement, was the first school to receive the vouchers.  The vouchers are good for up six members from a family.
If there are seats remaining as of December 8th the vouchers will be issued to the general public on a first come, first serve basis. Mill Rats season ticket holders will receive their seats to the game – another great reason to purchase season seats!
"We are very appreciative of this partnership by Canaport LNG," said Mill Rats President Ian McCarthy. "Our goal is enhance the vibrancy of Saint John and inspire the youth, and Canaport LNG has demonstrated they share those values."
Season tickets are on sale at the Harbour Station Box Office, by calling
506-657-1234
or by visiting
www.harbourstation.ca