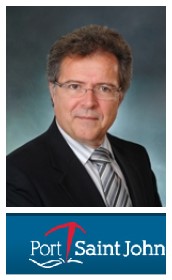 The American Association of Port Authorities recently named Port of Saint John CEO Jim Quinn its 2015-16 chair of the board.
"The Port of Saint John has built a stellar reputation on the world stage, and this appointment is a testament to Mr. Quinn's professionalism and leadership qualities," said Ed Doherty, minister responsible for Service New Brunswick. "We congratulate Mr. Quinn on being named chair."
"As a proud resident of Saint John, I am well aware that the port is a vital transportation link for trade in the province and that it provides excellent jobs for New Brunswickers," he said. "Our government is supporting the expansion and modernization of the Westside terminals, which will create close to 2000 jobs over the seven-year period of the project with a $152 million boost to the province's gross domestic product."
Doherty spoke on behalf of Agriculture, Aquaculture and Fisheries Minister Rick Doucet, who is also minister responsible for Opportunities NB.
In addition to serving as board chair, Quinn will also chair the association's Canadian delegation. He was formally appointed to the role on November 4th.
The American Association of Port Authorities represents more than 150 public port authorities in the United States, Canada, the Caribbean and Latin America.