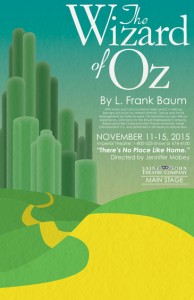 The Saint John Theatre Company is looking for help in creating the world of Kansas and Oz for their production of The Wizard of Oz, which runs November 11th to the 15th at the Imperial Theatre.
Set Painters and Props Crew members are needed. No experience is necessary. During the course of the set painting novices will learn some basics of scenic painting.
Painting starts this week and they will work evenings and weekends until Saturday, November 7th. Any time that people can offer is greatly appreciated.
Please email Andrea if you are able to help out at asc@rogers.com.
Tickets are on sale now: $25 for Imperial Subscribers, $38.50 for Adults, $34.50 for Seniors, and $10 for Students. Don't miss this great production of a timeless classic!
For more information about the Saint John Theatre Company visit their website at www.saintjohntheatrecompany.com.