by James M. Fisher, The Miramichi Reader
Each year thousands of visitors head to southern New Brunswick's Bay of Fundy area to visit the Hopewell Rocks, and I doubt any one comes away unimpressed by this natural rock formation enhanced by the extreme variation of the tides. When the tide is out, you can descend the stairs to the ocean floor and explore the rocks, inter-tidal areas and more. Then perhaps an hour or so later, you can get in a kayak and paddle over the same place where you walked. It's something to be experienced, no doubt about it.
To enhance that experience (or to prepare for it) Chocolate River Publishing has released The Bay of Fundy's Hopewell Rocks by Kevin Snair. Simply put, this is a beautiful book that does this natural wonder full justice in pictures as well as words. Mr. Snair is a passionate photographer and works as an Interpretive Guide for the Hopewell Rocks Park, thus he is well placed to take images of the Rocks in any season (even winter when the park is closed) and at night. I was particularly impressed by the night pictures. One graces the cover and there are more inside.
This is very comprehensive book, written for those that not only want to remember the Rocks in pictures, but for those curious about how they were formed, the arrival of the tourists and present development of the park. There are explanations of the tides, with lots of visual aids, such as the author and two fellow guides standing on the ocean floor at low tide, then pictures taken at intervals as the tide quickly comes up to chin level in about 27 minutes!
Flowerpot Rock is the iconic image of the Rocks, but there are so many more places to investigate and unless you have a lot of time to spend at the Rocks, it is almost impossible to see it all in one visit. To help you, there is a Self-guided Tour section, starting at the Interpretive Centre and mapping out about 6 or 7 more tours with highlights and insights on each area. This would be a good book to have before revisiting the Rocks. I highly recommend you pick up a copy, whether you plan to visit soon or at some future time. Then, you'll want to bring this book along as a handy reference. And if you have seen the Rocks, you have never seen them like this!
This book is available at local bookstores and gift shops as well as in the Fundy Guild book store in the Park. You can also get it online from www.chocolateriverpublishing.com.
It is available in hardcover as well as softcover.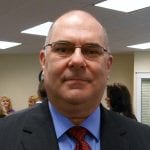 While not a New Brunswicker by birth, James M. Fisher has lived in Miramichi for over seven years and feels quite at home there. James is an ardent reader whose aim is to highlight New Brunswick authors and publishers, as well as cover subjects of interest to New Brunswickers in particular and Maritimers in general. For more visit his website or like his page on Facebook.