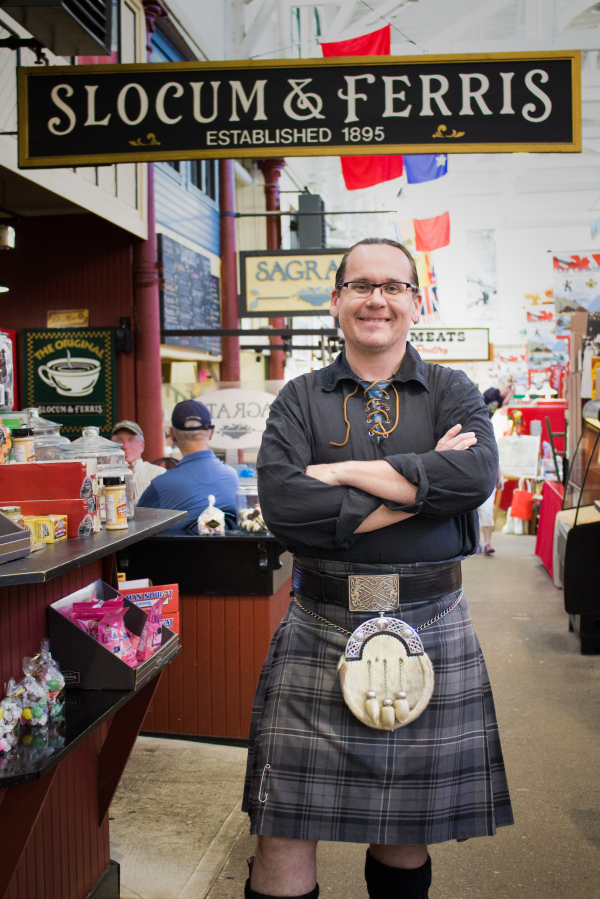 You may know him as the oatcake man, charmingly kilted at the local markets selling his delicious home-made oatcakes. Or, perhaps you've seen him setting up and working as sound technician during the uptown "Summer in the Square" music series, helping the bands lend their best melodies to our uptown. No doubt, you have noticed him out and about during his various involvements in uptown activity. Greg is a man of many talents, and uptown is thankful for his efforts in all that he does.
Let's get to know Greg …
Where were you born? Where are you from?
I was born in Chilliwack BC and I grew up on Cape Breton Island.
How long have you been a part of the uptown scene?
I moved to Uptown Saint John approx 8 1/2 years ago and started my business uptown approximately 3 1/2 years ago in the Saint John City Market.
Name one or two people who you look to for inspiration?
I have way too many inspiring people in my life that it is very difficult to choose just one or two.
What is your favourite season, and why?
I love the Fall and the vibrant colours of the changing season.
What is your ultimate favourite snack food?
My Oatcakes of course 😉
Coffee, tea, or other?
Coffee and Single Malt Scotch.
Any pets?
No Pets.
Favourite Musician?
I've worked with so many local and international musicians that it is difficult to choose one over such a large pool of talent.
What is your Uptown Insider Tip?
The two best Uptown Insider tips I have are … Happinez Wine Bar for the atmosphere and best restaurant, hands down East Coast Bistro – their food is amazing!
Find Greg at the City Market on Saturdays
Online: oatcakesociety.com
Facebook:  Cape Breton Oatcake Society
Twitter:  @OatCakeSociety