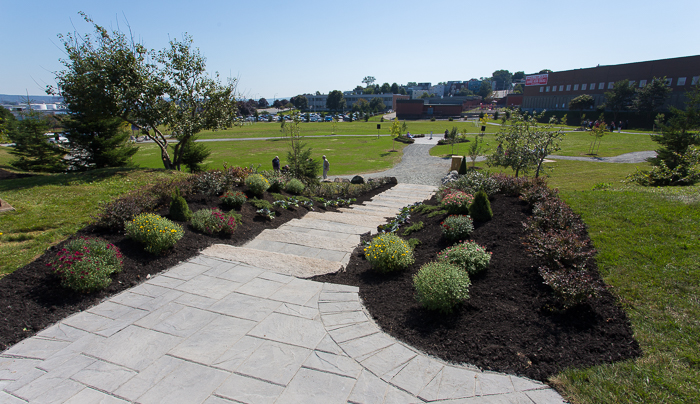 Chown Field has been repurposed to better serve the evolving needs of the community. The City of Saint John received a $25,000 grant from the CN EcoConnexions program for the project. CN EcoConnexions is a partnership between CN, Tree Canada and Communities in Bloom that helps Canadian municipalities and community groups establish tree planting and green space enhancement initiatives in a sustainable, environmentally responsible manner.
Matching funds were allocated by the City, along with labour provided by several skilled city staff members.
The area will now be comprised of a youth-sized soccer field, a dog park and newly turfed in seating area with park furniture.  A natural walking path was created with granite curbing salvaged from the uptown area. New landscaping completes the park, freshly lined with new shrubs and over fifty additional trees.
"CN is proud to support the City of Saint John in its efforts to reclaim and enhance a green space that will benefit the community as a whole and local youth in particular, providing them with a nice, safe place to play," said Pat Orr, CN Transportation Superintendent, who is based in Moncton. "We are all neighbours, CN, local citizens and businesses, working together towards a sustainable future."
Mayor Mel Norton was quoted, "Chown Field is a fantastic example of how well our community comes together to make great things happen in Saint John. Thanks to CN EcoConnexions, dedicated community members and our talented staff, there is now something for everyone to enjoy at Chown. This park will serve to enhance our quality of life in this neighbourhood."
This initiative resulted through recommendations in PlaySJ. The project scope was largely determined through consultation with local community groups in the Waterloo Village area.
Chown Field was named in honour of Harold Chown, a former Director of Recreation at the City of Saint John.
About CN
CN (TSX: CNR)(NYSE: CNI) is a true backbone of the economy, transporting approximately C$250 billion worth of goods annually for a wide range of business sectors, ranging from resource products to manufactured products to consumer goods, across a rail network spanning Canada and mid-America. CN – Canadian National Railway Company, along with its operating railway subsidiaries — serves the cities and ports of Vancouver, Prince Rupert, B.C., Montreal, Halifax, New Orleans, and Mobile, Ala., and the metropolitan areas of Toronto, Edmonton, Winnipeg, Calgary, Chicago, Memphis, Detroit, Duluth, Minn./Superior, Wis., and Jackson, Miss., with connections to all points in North America.
About Tree Canada
Tree Canada is a not-for-profit charitable organization established to encourage Canadians to plant and care for trees in urban and rural environments.  Tree Canada engages Canadian companies, government agencies and individuals to support the planting of trees, the greening of schoolyards, and other efforts to sensitize Canadians to the benefits of planting and maintaining trees. To date, nearly 80 million trees have been planted, over 550 schoolyards have been greened, and Tree Canada has helped organize eleven national urban forest conferences. The next Canadian Urban Forest Conference will take place in Laval, QC in 2016. More information about Tree Canada is available at www.treecanada.ca.
About Communities in Bloom
Communities in Bloom is a Canadian non-profit organization committed to fostering civic pride, environmental responsibility and beautification through community involvement and the challenge of a national program, with focus on the enhancement of green spaces.  The pride, sense of community and feeling of accomplishment generated through participation are visible in communities across Canada. The 2015 Symposium and Awards will be held in Kamloops, BC from September 30 to October 3.  For more information about Communities in Bloom, visit www.communitiesinbloom.ca.