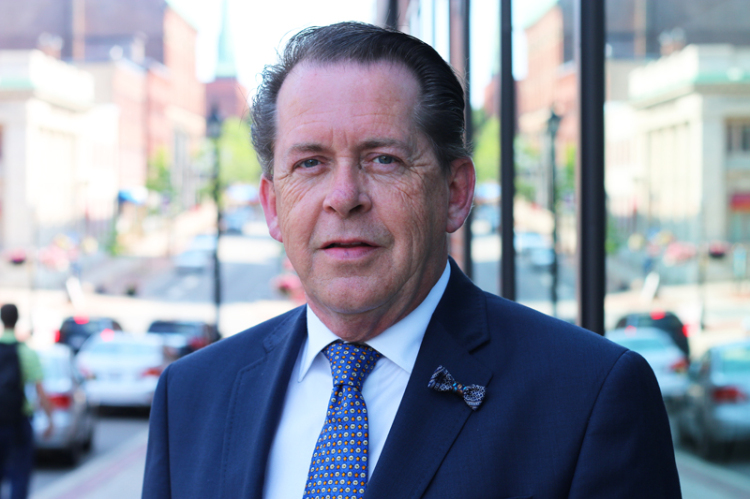 There exists in uptown Saint John, a mid-high end, uber hip and modern men's clothing store, Colwell's Mens (Brunswick Square, Level 3).  More often than not, you will find this handsome bundle of energy behind the counter, ready to assist and lend his impeccable fashion sense to anyone who needs a little help.  With a couple of decades under his belt at Colwell's and a unique flare for true gentlemen's style, Dan is the man.  Stop into Colwell's, have a chat, and treat yourself to a piece of clothing that will have you walking just a little taller than before.
Let's get to know Dan:
Where were you born/Where are you from?
I was born in Saint John, New Brunswick at the General Hospital, of Irish descent.
How long have you been a part of the uptown scene?
Living 9 years, working over 30 years.  I did a 10 year stint working east at Parkway Mall, as well.
Name one or two people who you look to for inspiration?
God, as he is my provider and strength, and my wife Karen (we just celebrate or 40th Anniversary) she is always with me in all I do.
What is your favourite season, and why?
Fall has the warmth of summer with the added beauty of colour!
What is your ultimate favourite snack food?
Anything sweet; cookies, cakes etc.
Coffee, tea, or other?
Tim's… dark roast 2 milk.
Any pets?
Cat, her name is Grey.
Most guilty pleasure?
Talking too much, LOL
Worst habit?
By today's standards, smoking
Favourite Musician?
Sam Smith
What is your Uptown Insider Tip?
Tin Can Beach one of my favourite spots to go and sit and let the moment steal away.
Find Dan and Colwell's Men's:
On the street:  Brunswick Square, Level 3
Phone:  634.0011
Web: colwells.ca
Facebook:  Colwell's Fashions – Mens
Twitter:  @ColwellsSJ
Instagram:  colwellsclothing