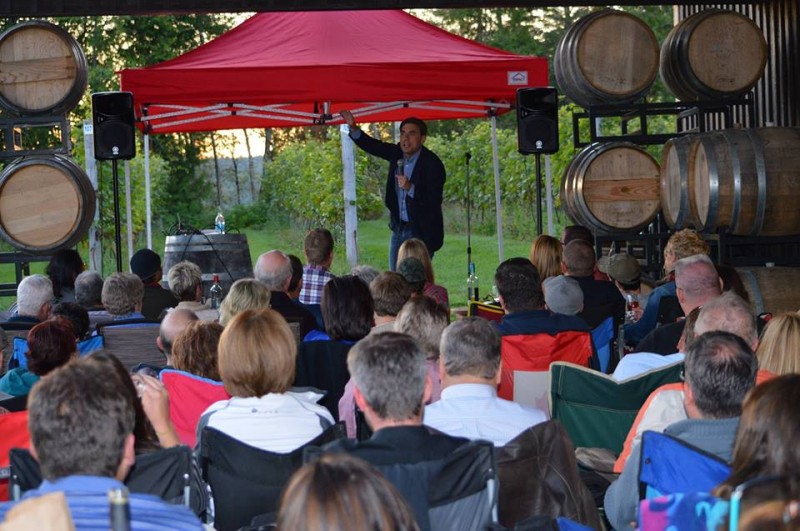 Dunhams Run's last show for this season's Date Night series featuring the live comedy of James Mullinger with support from Jimmy MacKinley happens this Friday, September 4th  at the Estate Winery in Kingston. Tickets are $22 plus tax ($24.86), include your first glass of selected wine, and there are still a few tickets left.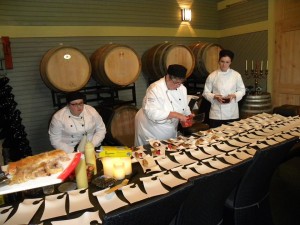 Dunhams Run offers a variety of winery events all year long. From wine tasting and vineyard tours to private events, there is something for everyone. Date Night starts at 6:30 pm with an optional Winery Tour, weather permitting. Seating and wine begins at 7 pm. Bring your own favourite lawn chair. Show time is 7:15 pm, rain or shine as all events are under cover. At half time, audience members have the opportunity to purchase more wine and delicious food! The second half of the show starts at 8 pm and runs through 8:30 pm. Then participants are invited to purchase their favourite wine and head back home or out for the evening.
Dunhams Run Estate Winery is located at 35 Gorhams Bluff Road in Kingston. For more information or to get ticktes telephone 506.653.0200 or email tony@dunhamsrun.ca. You can also find more Dunhams Run on their website at dunhamsrun.ca, Like them on Facebook or follow on Twitter.
"The reds are going into varaison in the vineyard … just released our new long reach … always have a sunset … the entertainment doesn't get any better. Book now, all other shows have sold out!"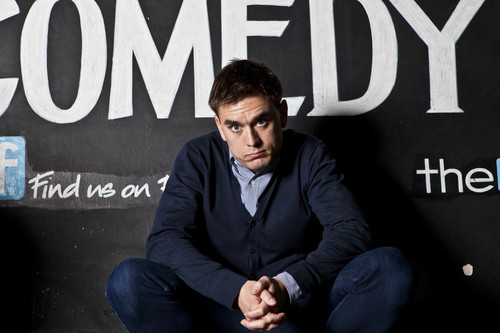 About James Mullinger
James Mullinger burst onto the UK comedy scene in 2005 when he reached the finals of Jimmy Carr's Comedy Idol, after just six months performing stand up. His performance in the final alongside Carr at The Comedy Store was filmed for Carr's bestselling live DVD. In the subsequent 18 months he reached the finals of two other national new act competitions, appeared on a UK TV panel show and set up his own comedy club working with comedians such as Stephen Merchant, Michael McIntyre, Stewart Lee, Darrin Rose, Russell Brand and Sugar Sammy. He has also appeared on stage with Russell Peters at London's 3,600 seater Hammersmith Apollo.
In 2012, Mullinger hosted the world's first funny film review show Movie Kingdom on TV channel DMAX which saw him riffing with Judd Apatow, Simon Pegg, Robin Williams and his all time hero Jerry Seinfeld. He also conducted hilarious interviews with A-list Hollywood stars such as Daniel Craig, George Clooney, Tom Cruise, Robert Downey Jr., Cameron Diaz and many more. The aim was always to make them laugh and he rarely failed. But when he did (most famously with a miserable Anne Hathaway), it was even funnier! This led to a web series for Comedy Central which saw him appearing with Seinfeld again as well as Amy Schumer, Lewis Black, Jim Jefferies and Gina Yashere.
James is the Comedy Editor for British GQ magazine writing jokes and conceiving, writing, producing and directing high concept photo shoots and short films with the likes of Paul Rudd, Chris Rock, Garry Shandling, Owen Wilson, Jerry Seinfeld, Ricky Gervais and Julia Louis Dreyfus to name but a few. Mullinger is also an award-winning writer and has interviewed Jerry Seinfeld, Bryan Forbes, Stephen Merchant, Bobcat Goldthwait, Rachel Weisz, Scarlett Johansson and hundreds more personalities.
In 2014 he moved to Atlantic Canada with his wife and children and started playing clubs and doing corporate shows all over North America. In his first 12 months he was nominated for a Just For Laughs Best Comedy Show Award, headlined Yuk Yuks clubs, performed at numerous comedy festivals, appeared on stage with Canadian comedy legends Russell Peters, Nikki Payne, Pete Zedlacher and Derek Seguin, landed his own TV series for Bell Aliant (a faux-documentary about his life touring Canada incorporating real stand up footage with scripted scenes), appeared on CBC Radio numerous times, recorded and released his first live concert album and was the subject of a glowing article in The Montreal Gazette. He still appears on UK TV regularly and works closely with many charities raising almost half a million dollars last year to help young people in need and women who have experienced violence.
Ask James and he'll tell you; moving to Canada was the best thing he ever did.