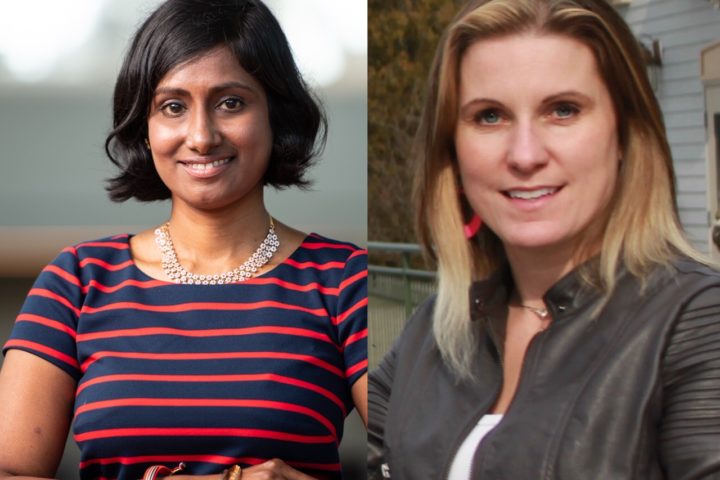 posted on December 13, 2018 by Eleanor MacLeanTwo Saint John entrepreneurs are developing two different business ideas that could change health in the workplace and how we fight cancer.Kimberley Vincent is a Registered Massage Therapist and owner of Serene Physique specializing in soft tissue and stress related conditions, but she saw a need for her expertise on a bigger scale."I have been in the field of Massage Therapy of over 16 years. In all of my experience, I have become increasingly aware of the need for Massage Therapy onsite of workplaces where our clients spend most of their time," says Vincent.Vincent's concept would allow workers to be given treatments between 15-60-minutes in satellite style clinics. With no travel time and less pain, the hope would be an increase in better health for workers and more productivity for companies."The cost to the corporations would be little to none as the majority of these companies offer health insurance which cover massage therapy for the employees. My goal is to expand in the port city and throughout the province of NB. I do believe with time this can also expand into markets nationwide, especially into larger cities," adds Vincent.
Dr. Alli Murugesan's, BioHuntress Therapeutics Inc. combines biomedical research and commercialization to develop nature-inspired cures for devastating diseases such as blood cancers and bone diseases.
"It is unfortunate that North America has 1.4 million blood cancer patients and blood cancers constitute nearly 10 per cent of all cancer related death. Blood cancers remain incurable so far. The current solution of chemotherapy is often worse than the disease it's meant to fight," says Murugesan.
Her goal is to develop a compound from bee glue as a well-tolerated drug to kill chemo-resistant blood cancer cells. She has won the MITACS Global Impact Entrepreneur Award and her business was shortlisted as BioNova's Bio Innovation Challenge semifinalist in 2018.
"The long-term vision of BioHuntress is to play a key regional role in establishing a research to market reputation and repeatable set of processes for life science researchers," adds Murugesan.
Both women are in the current group of entrepreneurs to come through ESJ's Venture Validation Program (VVP).
"Not only did I learn to validate my venture better, I acquired a very strong entrepreneurial mind-set and I would like to express my heartfelt thanks to the VVP team of instructors including Dan Doiron, Greg Fleet, Dakota Lutes and Lucas Loughead for their valuable contribution in my entrepreneurial journey," says Murugesan.
Kimberley Vincent had a similar experience.
"They provided the necessary tools to analyze my business concept and bring it in front of my target market. They have provided coaching and insight, as well as the very important tool of networking. I cannot say enough about how fortunate we are in Saint John to have access to these fantastic programs and mentors."
The next group of aspiring entrepreneurs will start VVP January 16th.
ESJ's Entrepreneur Development Officer, Dakota Lutes says in the last two years, fifty percent of people coming through the program have moved a product or service to market.
"Your business skill level doesn't matter. This program is about walking people through a set of basic concepts that every business idea needs to address. Pain points, value proposition, customer segment, market size, competitive differentiation, and financial modeling. Whether you've done it or never done it, we'll get you through it and provide value."
If people are hesitant on taking the plunge into entrepreneurship, Murugesan gives this advice:
"In our entrepreneurial journey, when we take that very first step, there are several things that are new and uncertain to us. If we could take that first step boldly with our own unique charm, passion, integrity and focus, the other 99 steps will fall in place for us."
To apply for the program, go here or contact dakota@enterprisesj.com.
Originally published in the Telegraph Journal, December 12, 2018