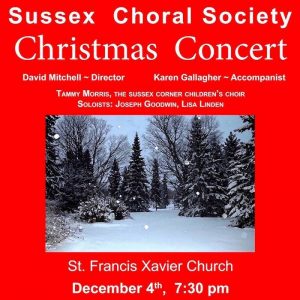 The Sussex Choral Society presents its annual Christmas concert on Sunday, December 4th, 7:30 pm, at Saint Francis Xavier Roman Catholic Church in Sussex.
Directed by David Mitchell, with accompaniment by Karen Gallagher, this year's concert features soloists Joseph Goodwin and Lisa Linden, as well as the Sussex Corner Elementary School Choir and Tammy Morris.
Tickets are $15 and available at Winterwood Food Store, Back Stage Music, and at the door.
For more information find the event on Facebook or like the Sussex Choral Society Facebook Page.