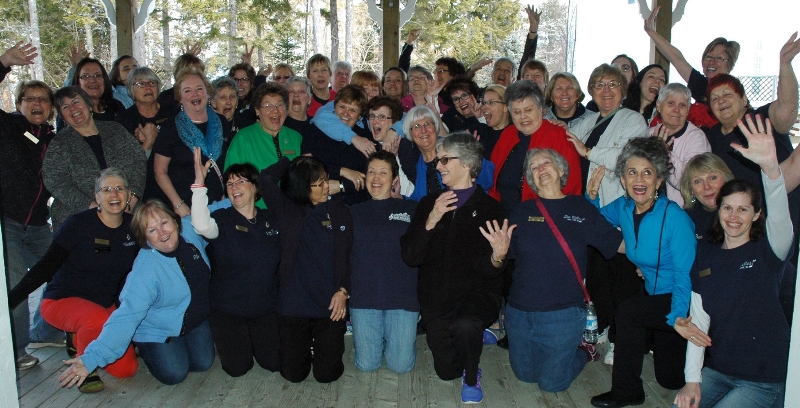 Sea Belles A Cappella Chorus, Saint John's only chapter of Harmony, Incorporated, an international organization of female a cappella singers specializing in the barbershop harmony style, will head to Sackville, NB June 2-4th to participate in an area contest that could qualify the local singers for an international competition later this year.
Sea Belles will go head to head with six choruses in Harmony, Inc.'s Area 1, which includes New Brunswick, Nova Scotia, Prince Edward Island and Newfoundland. The competition will determine area rankings, and participants earning a score of a certain threshold are qualified to participate in the international competition of Harmony, Inc. choruses in Providence, Rhode Island in November. Sea Belles is the three time Area 1 top performing chorus in the past four years.
"Sea Belles chorus rehearses all year to become more masterful at the four-part harmony that characterizes the barbershop style, but preparing for our area contest is one of the most exciting times of our year," says Susan Ingraham, chapter president. "We're ready to take the competition stage, and we're proud to represent the Saint John community among choruses from all across this region."
Harmony, Inc. has hosted area and international conventions for more than 50 years, gathering female singers of all musical backgrounds and experience levels to participate in a series of competitions for quartets and choruses. Participants are adjudicated by a panel of trained judges evaluating categories that encompass what songs the performers elect to sing, the skill with which they sing those songs, and how they present the songs, which can include emotionally connecting with the audience.
With approximately 55 members, Sea Belles is directed by Janet Kidd of Hampton, NB. The chorus plans to present two songs at the area contest, "I'm Afraid the Masquarade is Over" and "Alexander's Ragtime Band". These selections are a small sample of the chorus' extensive repertoire, which is ideally suited for a wide range of audiences and events. To learn more about the chorus' upcoming performance schedule, visit www.seabelles.ca.
About Sea Belles of Harmony, Inc:
Founded in 1959 the Saint John chapter of Harmony, Inc., also known as the Sea Belles A Cappella chorus, brings four-part a cappella harmony to the local community through regular performances and educational events. The chorus consists of women representing a wide range of musical backgrounds, from novice to trained professionals, and performs under the direction of Janet Kidd. Sea Belles rehearse at 7:00 PM on Tuesday at the Portland United Church. For more information, visit www.seabelles.ca.
About Harmony, Incorporated:
Harmony, Inc. is an international, non-profit organization whose purpose is to empower all women through education, friendship and a cappella singing in the barbershop style. Since 1959, the organization has expanded from its Eastern roots to include more than 60 chapters in the United States and Canada, from California to Newfoundland, and from Manitoba to Florida. For more information, visit HarmonyInc.org.