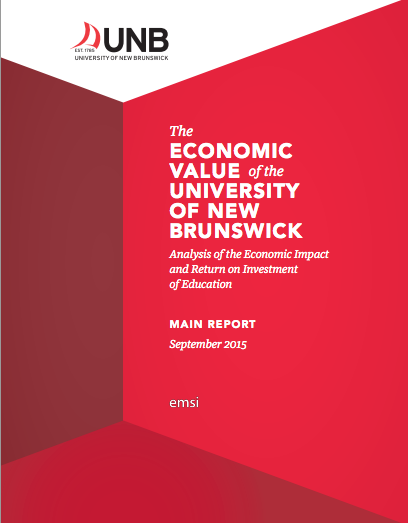 The University of New Brunswick (UNB) recently announced the release of "The Economic Value of the University of New Brunswick: Analysis of the Economic Impact and Return on Investment of Education," an independent analysis conducted by Economic Modelling Specialists International.
The research and analysis reveals that the university has a total economic impact of $1.2 billion on the provincial economy over the course of one year, equal to 4.5 per cent of the Gross Domestic Product for New Brunswick.
This total impact includes:
operations spending impact of $194 million;
direct research spending impact of $32.2 million;
start-up and spin-off company impact of $48.1 million;
student spending impact of $18.9 million;
visitor spending impact of $1.3 million;
alumni impact of $949.9 million.
The report also evaluates the university's value as an investment. It shows that for every $1 spent on UNB, students, society and taxpayers more than double their investment:
$2.80 is returned in lifetime earnings for students;
$2.80 is returned in added provincial income and social savings for society;
$2.10 is returned in added taxes and public-sector savings for taxpayers.
"We've always known that our students and alumni, faculty, and employees are making a difference, and these numbers are clear evidence of those efforts," said Eddy Campbell, president of UNB.
"As a public institution, we're pleased to report such a strong return on the investments made by government, donors, and by our students and their families," Campbell said. "The combination of high performance and strong return on investment as underscored by the report is a point of pride for the university."
Through its teaching, research and innovation activity, and community engagement, UNB is deeply engaged in building a better future for New Brunswick and its people, Campbell said. This mission is driven by a strategic plan focused on making a transformative difference for our province, our students, and our communities.
The full report and associated documents are available online.