The Saint John Police will be conducting a Seatbelt Campaign between April 3-9, 2022. The campaign will focus on educating the public about the dangers associated with driving without properly wearing a seatbelt and on the enforcement of seatbelt legislation. This is one of several road safety campaigns that our Traffic Management Officers will target in 2022.
How to wear a seat belt?
A seatbelt must be properly adjusted meaning to be worn snugly across the top of the shoulder and diagonally across the chest with no limb, other object or other material between the assembly and body other than clothing or medical aid.
Child seating and restraint systems
Image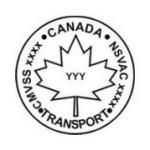 Research indicates that the use of appropriate child passenger restraints reduces the risk of serious injury by 40 to 60 percent. All seats manufactured after March 15, 1998 for sale in Canada must bear the National Safety Mark, as shown, to indicate compliance to the applicable Canadian standards. Look for this mark. Do not buy a seat without it (Goverment of New Brunswick, 2022).
Rear-facing seat: Use a rear-facing seat until a baby is at least one year old and 10 kg (22 lbs).
Forward-facing seat: Use from 10 kg (22 lbs) to 18 kg (40 lbs), from at least age one to generally four and a half years.
Booster seat: Use from 18 kg (40 lbs) until the child meets one of the following criteria: 9 years old or 36 kg (79-80 lbs) or 145 cm (4'9″)
Seatbelt: To be used when a child has outgrown the booster seat or meets one of the criteria listed above.
What is illegal and what is not under the law?
All occupants of a vehicle must wear a seatbelt
The seatbelt must be worn properly
All children must be in a child seating and restraint system as listed above
You cannot operate a vehicle with more occupants than seatbelts
What is the penalty?
Drivers convicted of a seatbelt offence under the Motor Vehicle Act will be fined a minimum amount of $172.50.
What are the impacts?
In New Brunswick, over 40% of vehicle occupants who die in a collision are not wearing their seat belt. Many of these lives can be spared if only a seat belt is used (Goverment of New Brunswick, 2022).
Together a safe, secure, healthy community