Jingle Ball 2020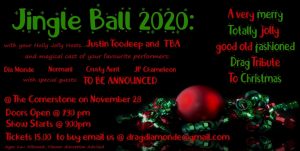 It's that time again! Most of 2020 is behind us and now we're only waiting for the man with the bag! (and I mean Santa, not Justin Toodeep!)
We're serving up a delicious helping of Christmas Drag performances from your favourite locals!
Plus, we've got some extra special out of town guests, but you'll just have to wait until Drag Christmas!
Come party with us on November 28th at the Cornerstone, located at 42 Leinster Street, Saint John, New Brunswick. The doors open at 7:30 and show will start at 9:00 (plenty of time to grab your drinks and have a sit.)
We're, of course, fully socially distanced and it is best to book a table of 4 or more to guarantee that your whole party is able to attend.
We're a great choice for your socially distanced work Christmas party! Book now, because so far we've sold out every show! Don't be left out in the snow!
This time we're letting a few more of our younger fans come get in on the fun.
We will allow people 16+ for this show. But please keep in mind, this is still a regular show with coarse language and mature themes so viewer discretion is advised.
Tickets are $15.00 and you can pre-buy drag Bux by mentioning it when you order your tickets.
But how do I buy tickets? Send an email to
dragdiamonde@gmail.com
with the number of people you want to book, their full names (for contact tracing).