Black Lives Matter Saint John Fundraiser – Comedy, Music, Poetry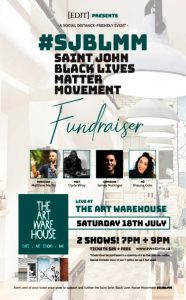 Saint John Black Lives Matter Movement fundraiser featuring music from Matthew Martin, poetry from Clyde Wray, stand up comedy from James Mullinger and MC: Shauna Cole will be held on Saturday, July 18th, 2020 with two shows at 7pm and 9pm at the Art Warehouse!
Tickets here: https://www.eventbrite.ca/e/black-lives-matter-movement-saint-john-fundraiser-comedy-music-poetry-tickets-111005680980  and are $25. + fees.
This is a  social distance-friendly event. Limited seating available – just 20 tickets for each show so book now!
Important note: Tickets must be purchased in a quantity of 4 so that you can bubble.
Special intimate show of just 5 tables at each show, set up 6 feet apart!
Our Mission of Saint John Black Lives Matter Movement:
The platform upon which black communities across Saint John and New Brunswick can actively dismantle all forms of anti-black racism, liberate blackness, recognize black excellence, support black healing, affirm black existence, to create freedom to love and self- determine and to help offer education to those who seek it.
#SJBLMM
Special thanks to Hazel Cochran at The Art Warehouse. And beautoful poster design donated by Matthew Phillips at Go North Design.
Please note that all performers are donating their time and talents for this cause to ensure that every cent of your ticket price goes to support and further the Black Lives Matter movement in Saint John. Sound system and marketing campaign is courtesy of Edit Media.
The Saint John Black Lives matter movement is a registered non-profit organization.
Find this event on Facebook at: https://www.facebook.com/events/718107979042374/