Rocmaura Foundation Armchair Gala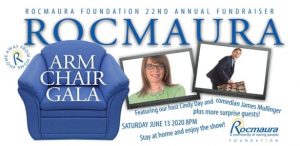 Join the quarantine event of the 2020 Pandemic! From the comfort of your own home.
Our major annual fundraising Gala is going virtual!
You will get a private link by email, to zoom in with our Host Cindy Day and Comedian James Mullinger online – and a surprise guest you won't want to miss!
We will be celebrating our front line heroes and of course raise much needed funds to buy medical equipment and recreation programs for our 150 residents.
Buy Tickets – $50 suggested donation & charitable tax receipt. Buy a virtual table for $1250. Many levels of sponsorship available. Email Sally Cummings at foundation@rocmaura.com
Or Call (506) 643-7090
Visit:
https://www.canadahelps.org/en/charities/rocmaura-foundation-inc/events/rocmaura-foundation-armchair-gala/
(Paste this link into your browser to purchase online)
All proceeds to enhance our residents quality of life at Rocmaura Nursing Home.
Gather in your bubble for an unmasked, socially distanced, safe party, and help make life better for our residents in their "home away from home."
Support our local participating restaurants
Thandis 648-2377 and House of Chan! 847-2426 & 672-5426
Order a take home meal before the show.
15% of sales that day will be donated back to Rocmaura.
Purchase our covid-19 merch – T-shirts $25
Email: foundation@rocmaura.com or Call 506 643-7090