The Pavilion Place Marketplace at the Lily Lake Pavilion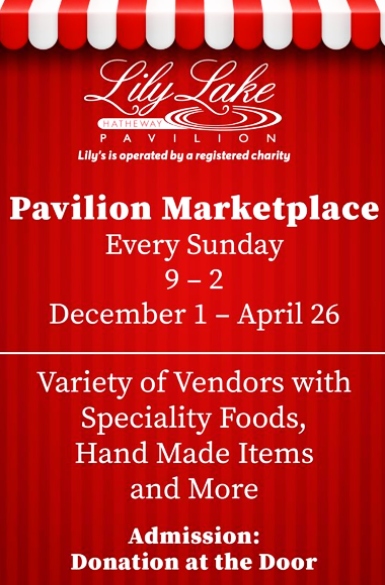 Whether shopping for the people you love, or getting the people you love together, the Pavilion Marketplace is the place for you!
Starting December 1st, 2019 until Sunday, April 26th, 2020, the Lily Lake Pavilion will be hosting the weekly Pavilion Marketplace every Sunday from 9am till 2 pm, located at 55 Lake Drive, Saint John, New Brunswick.
Admission is a donation at the door.
This event will be gathering local vendors with unique hand crafted products, tasty foods and farm to table ingredients the Pavilion Marketplace is all about community supporting community!
The Lily Lake Pavilion is operated by a registered charity that maintains the beautiful building and provides community enrichment programming in Rockwood Park.
Be sure to "view" and "like" on Facebook – Lily's and Lily Lake Pavilion at: https://www.facebook.com/lilyslakeside/ and https://www.facebook.com/lilylakepavilion/ and also visit on the web at: http://www.lilylake.ca/
Find this event on Facebook at: https://www.facebook.com/events/972118053135487/