Theatre New Brunswick (TNB) 2019-2020 Season Opening Show "1979" – Saint John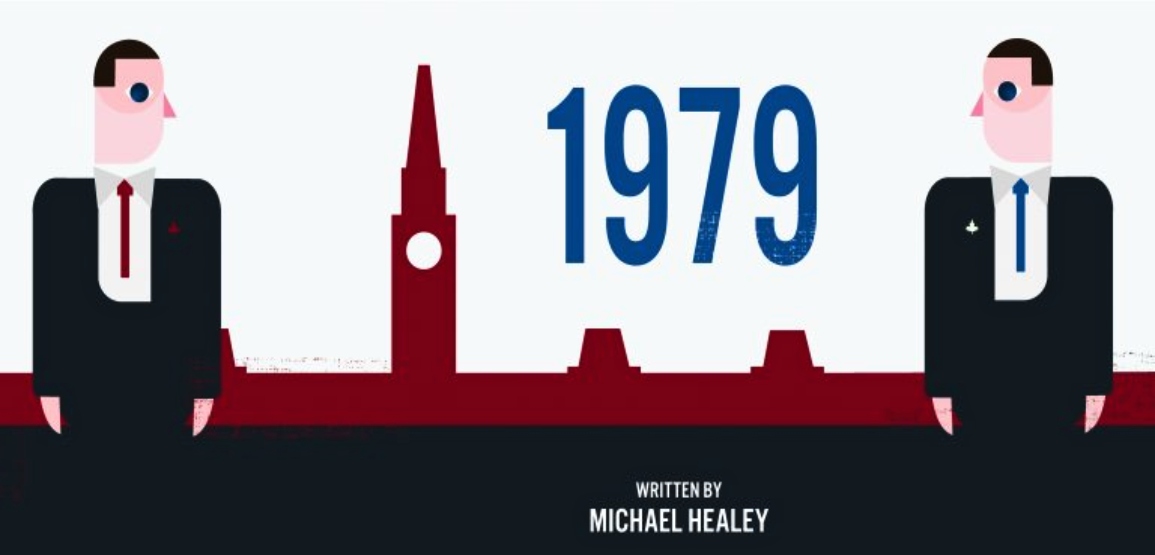 Theatre New Brunswick (TNB) has kickoff a brand new season this week with the timely political comedy, 1979, by Canadian playwright Michael Healey. Step inside the office of Prime Minister Joe Clark for this laugh-out-loud comedy packed with events and colourful characters from Canada's political past.
Saint John's performance of 1979 will be on Wednesday, October 30th, 2019 at the BMO Studio Theatre, 112 Princess Street, Saint John, New Brunswick.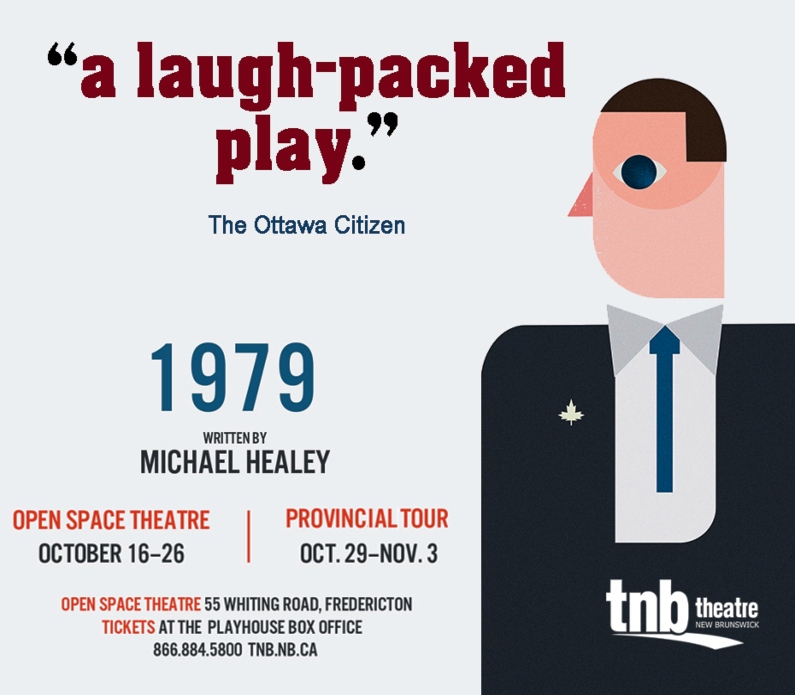 "I have seen two productions of this play and I have to say it's one of my favourite new plays in years," said TNB artistic director Natasha MacLellan. "It's so funny, and also so refreshing to see a play about Canadian politics!"
The three-actor production features New Brunswick actors Jeff Dingle and Sarah O'Brecht as well as returning actor Kevin Curran who wowed audiences in last season's production, A Brief History of the Maritimes and Everywhere Else. Dingle has performed in the past as a member of TNB Young Company and O'Brecht, from Saint John, will make her TNB debut with 1979. Both actors recently worked together in the debut production of No Man Is An Island by the Atlantic Repertory Company.
Together on stage, Curran, Dingle and O'Brecht are nothing short of a power trio – totally hilarious!
"If you're a fan of This Hour Has 22 Minutes, or Rick Mercer, you're going to love this play," said MacLellan. "It's a wild ride for the actors. One actor plays Joe Clark and stays on stage the entire show while the other two come in and out of the PMO as a number of different characters from Canada's political past."
As the title suggests, 1979 is a trip back in time (with a few modern day characters thrown in for good measure). In 1979 Joe Clark defeated Pierre Trudeau to become Canada's youngest Prime Minister. By Christmas it was all over. This new Canadian comedy offers an amusing look at Clark's nine month stint at the head table as friends, foes and family share their advice on how the young leader should move forward while his party's popularity dwindles at an alarming rate.
"I'm really looking forward to producing this play in the midst of this year's federal election. In theatre, timing is everything, and I don't think there is a better play suited for the fall of 2019 than this one."