Quispamsis Arts and Culture Park Summer Series of Events of Movies and Music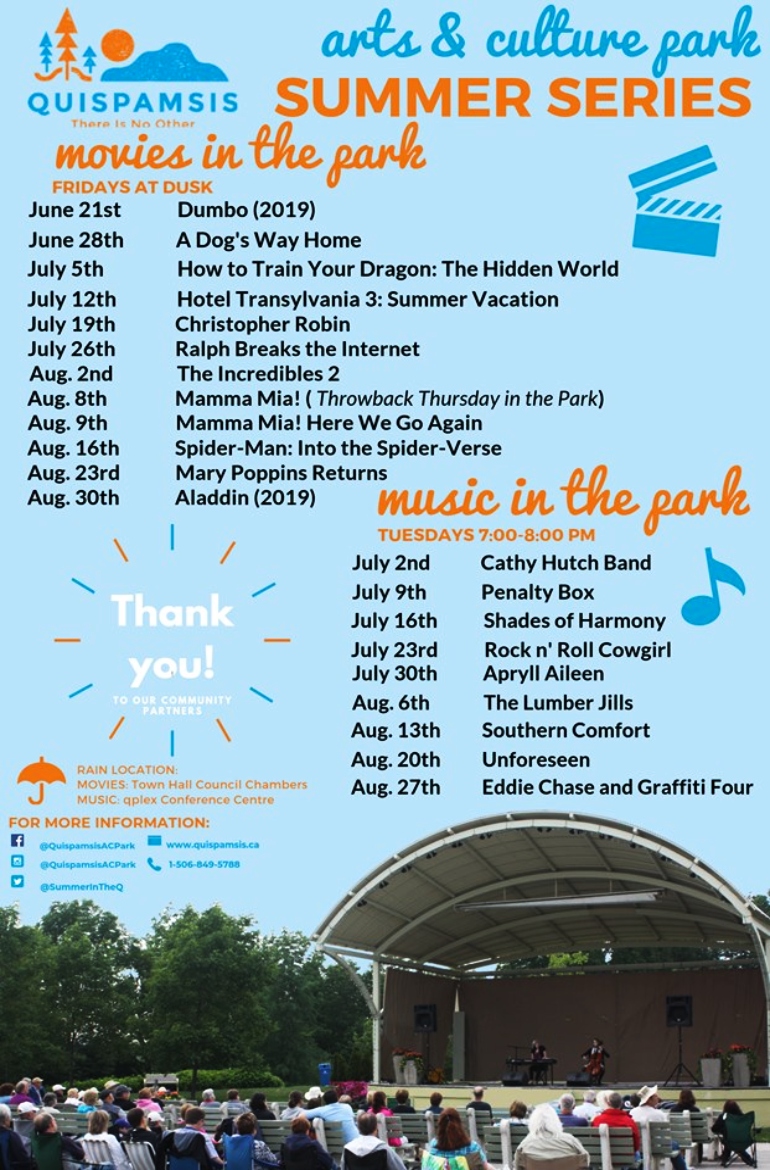 The Quispamsis Arts and Culture Park is pleased to announce their Summer Series Schedule of Movies and Music in the Park for the 2019 season.  The movies happen every Friday at dusk and the music happen every Tuesday evening from 7:00 pm to 8:00 pm.
Every movie is a free admission, and includes a popcorn too!  In the event of rain, movies will be held in the Town Hall Council Chambers and the music will be in the qPlex Conference Centre.
For more information, contact: 1-506-849-5788.
Movies Schedule
Friday, June 21st, 2019 – Dumbo
Friday, June 28th, 2019 – A Dog's Way Home
Friday, July 5th, 2019 – How To Train Your Dragon: The Hidden World
Friday, July 12th, 2019 – Hotel Transylvania 3: Summer Vacation
Friday, July 19th, 2019 – Christopher Robin
Friday, July 26th, 2019 – Ralph Breaks The Internet
Friday, August 2nd, 2019 – The Incredibles 2
Thursday, August 8th, 2019 – Mamma Mia! (Throw Back Thursday In The Park)
Friday, August 9th, 2019 – Mamma Mia! Here We Go Again!
Friday, August 16th, 2019 – Spider-Man: Into The Spider-Verse
Friday, August 23rd, 2019 – Mary Poppins Returns
Friday, August 30th, 2019 – Aladdin (2019)
Music In The Park Schedule
Tuesday, July 2nd, 2019 – Cathy Hutch Band
Tuesday, July 9th, 2019 – Penalty Box
Tuesday, July 16th, 2019 – Shades of Harmony
Tuesday, July 23rd, 2019 – Rock n' Roll Cowgirl
Tuesday, July 30th, 2019 – Apryll Aileen
Tuesday, August 6th, 2019 – The Lumber Jills
Tuesday, August 13th, 2019 – Southern Comfort
Tuesday, August 20th, 2019 – Unforeseen
Tuesday, August 27th, 2019 – Eddie Chase and Graffiti Four
The Quispamsis Town Hall is located at: 12 Landing Court in Quispamsis and the qPlex is located at: 20 Randy Jones Way in Quispamsis.
Find the  Quispamsis Arts and Culture Park on the following pages:
Website: https://www.quispamsis.ca/
Email: acpark@quispamsis.ca
Facebook: https://www.facebook.com/QuispamsisACPark/
Messenger: m.me/QuispamsisACPark 
Twitter: https://www.twitter.com/SummerInTheQ 
Instagram: https://www.instagram.com/QuispamsisACPark