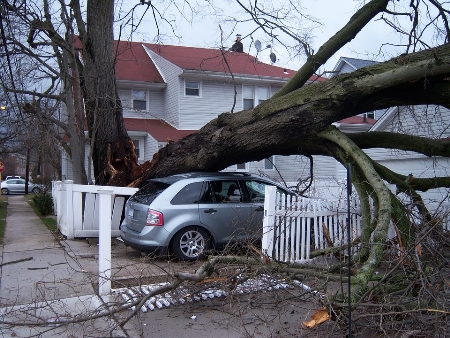 With hurricane season underway, New Brunswickers and their families are reminded to be "72-hours ready" in case of an emergency. That involves having everything they need to be self-sufficient for at least three days, including food, water, medication, batteries, cash and other necessities.
Previous weather systems have demonstrated that any New Brunswick community can be severely affected. Homes and businesses have had to be evacuated due to flooding, some regions have been affected by power outages for long periods of time, and, at times, major storms have paralyzed communities for days.
"Being prepared, informed and educated is the key to severe weather event management," said Justice and Public Safety Minister Denis Landry. "In preparation for hurricanes, tropical storms or other severe weather, everyone needs to have a plan in place to protect their family, pets, livestock and property. Residents are reminded to pay close attention to forecasts, to stay up to date on evolving weather conditions and to heed warnings."
There are three important components to 72-hour preparedness:
Know the risks. People should evaluate the kind of emergency that can affect their family and community. Knowing the risks can help them better prepare for any disasters, such as storms, flooding, train derailments, power outages or other events.
Make a plan. Every household needs an emergency plan. It takes less than 30 minutes to prepare, and will help people know what to do in case of an emergency. Family members should discuss how to meet, how to contact each other, and what to do in different situations. Write down the plan and keep it in a safe place.
Get an emergency kit. People should have all the necessities for themselves and their family, such as water, food, flashlights, radio, batteries, first aid kit, prescription medications, infant formula and cash (ATMs might not be operational).
A 72-hour guide available online contains useful information to help families prepare an emergency kit and family emergency plan.
The Emergency Measures Organization co-ordinates preparedness for emergencies. It also co-ordinates provincial response operations during emergencies and administers disaster financial assistance programs during recovery. It works at provincial, regional and municipal levels to ensure that communities are protected during all phases of an emergency.
For more information: