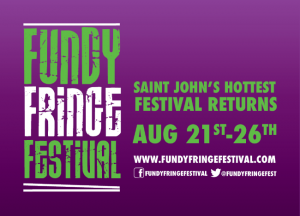 The fifth Fundy FRINGE Festival is back August 21-26.
Fundy FRINGE Festival is part of a growing community of Fringe Festivals throughout North America, dedicated to supporting independent performers and artists and creating affordable spaces through which diverse communities can experience boundary-pushing theatre and other performances, in accordance with the four criteria set out by the Canadian Association Of Fringe Festivals (CAFF):
Fringe Festivals are un-juried.
Fringe Festivals are uncensored.
Fringe Festivals are accessible to audiences and artists.
Fringe Festivals return 100% of the ticket price to participating artists.
As a member of the Canadian Association of FRINGE Festivals, the body that oversees the use of the trademarked "fringe" name, the plan for the Fundy FRINGE Festival is to showcase over 100 shows over 5 days. Ticket prices are set at $10/show. Shows are typically 30 – 60 minutes long. They incorporate film, dance, performance art, stand-up and more by troupes or by one-man shows. FRINGE presents an open-ended performance proposition.
5 Tips for Fringers:
All acts perform multiple times over the 5 days, so have a look at the FRINGE schedule. The full schedule is on an insert in the printed programs, and on the website. There are shows on from Noon to late at night most days!
Single tickets are $10 (Cash Only!) at the door of the Venue. You cannot buy these in advance, so get them just before you go into the show (about 20 minutes before the show starts).
FRINGE Passes are the cheapest way to see the shows. $60 for a Pass gets you 8 entrances, which is $7.50 per show! These are fully transferable, so you could use a Pass yourself, share a Pass with a friend (see 4 shows together!), or take a group to a show or two. Passes can be bought at the HUB! (Saint John Theatre Company, 112 Princess Street) with cash, debit, or credit. Hours before the FRINGE are 9:00-4:00 Mon-Fri; during the FRINGE, hours are 10-7 Wed-Sat, and 10-5 on Sunday. Call 652-7582 for info.
There are NO reserved seats, so get to the show on time, and do not be late. There are NO late entrances!
Often there are 30 minutes between shows at the different venues, so you won't be able to buy your ticket too much in advance. Audiences can help out by showing up on time to the show, and leaving the show promptly when it's done.
For information on the 2017 Fundy FRINGE Festival including the line-up visit: www.fundyfringefestival.com