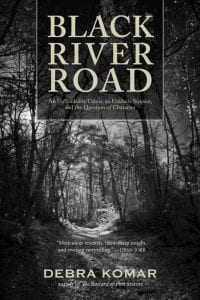 by James M. Fisher, The Miramichi Reader
Canadian author and retired forensic anthropologist Debra Komar has written her fourth book examining a historical crime, Black River Road (2016, Goose Lane Editions)*. Subtitled "An Unthinkable Crime, an Unlikely Suspect, and the Question of Character", Ms. Komar searched back through historical court records to find this unique case of a murder committed outside the city of Saint John, New Brunswick in 1869.
Ms. Komar's forthright style and subtle wit are never more in evidence than in the telling of this shocking Victorian-era crime.
The Man, the Mistress and the Murder
The man accused of the murder of Sarah Margaret ("Maggie") Vail was respected Saint John architect John Monroe. Although married, he had an affair with Maggie which produced a child, much to John's chagrin. Maggie's and the child's badly decomposed remains were found about a year later on the Black River Road. It was obvious that Maggie was shot through the head, but how the child died remains a mystery. While John Munroe was eventually arrested for the murder, his standing in the community was such that no one, not even the press, wanted to (or could not) believe John Monroe had committed the crime. They even tried to convict another man whose character was more suspect. Newspaper editorials rallied to John Munroe's defence, based on his good character, his excellent deportment throughout the trial, and so on. Munroe's defence was counting on his fine character and community support to lead to his acquittal, making this the first case in Canadian legal history to use character as evidence, despite circumstantial evidence pointing to him alone as the murderer.
As with her previous three books, Ms. Komar applies extensive research and her past medico-legal experience to construct an authoritative, factual and entertaining read. It is also quite educational, especially for those of us not so well versed in legal matters. For instance, in the present Canadian legal system, character as evidence is not supported since the courts consider everyone capable of murder and will not allow anyone to argue to the contrary. In the preface, Ms. Komar requests of the reader:
Set aside the questions raised by "murder as entertainment"- whodunit and why- and focus instead on the questions the law dictates: did Munroe make the decision to kill, and did he act on it?
Conclusion
Black River Road is a scalpel-sharp dissection of a crime that garnered much attention almost one hundred and fifty years ago. Ms. Komar's forthright style and subtle wit are never more in evidence than in the telling of this shocking Victorian-era crime. She has honed her writing style, sifting through archival stacks, newspapers and more to render two hundred informative pages of entertaining, factual storytelling. She never resorts to "fictionalizing" history; that is creating dialogue where none was recorded, and adding other distracting details in a fruitless effort to sensationalize the actual story. The result is a quick, yet insightful read, focusing on early Canadian legal history and the limited investigational skills of the time period in question, well before forensics was a true science and DNA could positively identify a victim (or accuse a perpetrator) of a crime.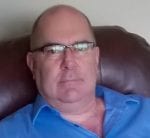 James M. Fisher lives in Miramichi. James is an ardent reader whose aim is to highlight New Brunswick authors and publishers, as well as cover subjects of interest to New Brunswickers in particular and Maritimers in general. For more visit his website or like his page on Facebook.
The post Book Review: "Black River Road" by Debra Komar appeared first on Giver on the River.