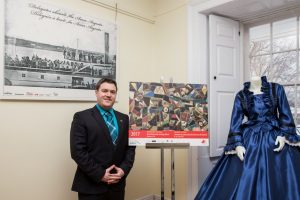 New Brunswickers are encouraged to celebrate Heritage Week 2017 this week, February 13-17.
More than 100 community and school events have been organized throughout the province.
The theme for the week is Celebrating 150 years. This topic touches upon many aspects of New Brunswick's past and provides an opportunity to celebrate the province's role in Confederation.
"As we celebrate Canada's 150th anniversary, it is important that we recognize the contributions made by the people of New Brunswick to Canada," said Tourism, Heritage and Culture Minister John Ames. "Heritage Week allows us to create an awareness of our history and promote our cultural heritage."
There are several community-based activities happening throughout the province that are open to people of all ages.
"All New Brunswickers will have a chance to learn about some of the men and women who helped shape our beautiful province and helped to make it the best place to raise a family," said Ames.
As part of the Canada 150 celebrations, people are encouraged to visit the Canada 150 NB website, use the hashtag #NBProud and follow @Canada150NB on social media and share why they are proud to be New Brunswickers.