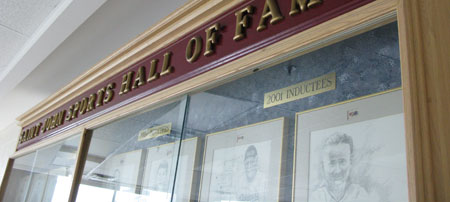 The Saint John Sports Hall of Fame committee is now accepting nominations for the 2017 induction.  Celebrating its 30th anniversary, the Saint John Sports Hall of Fame has been honouring local sport legends in Greater Saint John since 1987.
Years of local sport legends line the walls of Harbour Station.  The framed sketches enclosed in glass cabinets represent decades of athletes, teams, and sport builders who have left their mark on sport legacy in Greater Saint John.  While there are over one hundred inductees, there are many more names one might expect to see on the Hall of Fame roster who are not there.
"The integrity of the Sports Hall of Fame relies on a fair evaluation of the nominations the committee receives, explains Fred Horgan, chair of the committee.  "If no one nominates them, you won't find them on the wall."  Horgan says he'd love to see this anniversary year bring in a significant number of nominations.
Sponsored by the City of Saint John, the Saint John Sports Hall of Fame committee coordinates a biennial induction ceremony. Inductees are carefully selected through the committee's evaluation process.  Nomination forms are available online at www.saintjohn.ca/shof or by calling 658-4521.
Deadline for submissions is April 21, 2017.
An induction ceremony will take place in the fall.