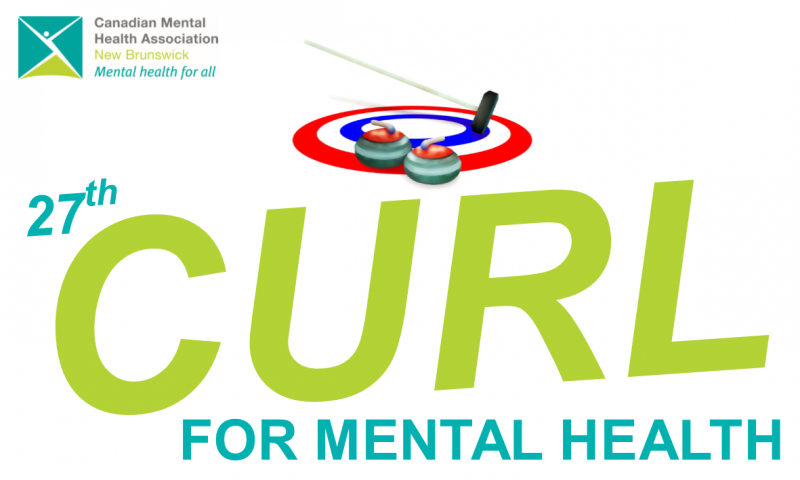 Curl for Mental Health celebrates its 27th year!
On Saturday March 18th, 2017 the Canadian Mental Health Association of New Brunswick (CMHA of NB) Saint John Office will be celebrating their 27th Curl for Mental Health sponsored by Moose Light at Thistle St. Andrews Curling Club! Grab your partners and make this year's fundraiser a rockin' success!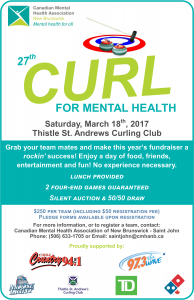 Curl for Mental Health promises to be fun-filled day of curling. Four person teams are required. The cost is $250 per team (including $50 registration fee) and pledge sheets are available upon registration. Enjoy a day of food, friends, entertainment and fun – no experience is necessary. Teams are guaranteed two four-end games, lunch and there will be a silent auction as well as a 50/50 draw! This is a community event for all ages, so register a team and come out to have a great time, while supporting a fantastic cause. Hurry … hurry hard in support of a great cause; call 633-1705 to register your team today.
Events like Curl for Mental Health help increase public awareness, and reduce the stigma associated with mental illness, while raising funds for our much-needed community programs and services. We need your help in sending a message to the public about the importance of mental health, through this day of entertainment and fun!
This event is generously sponsored by – CHSJ Country 94.1, 97.3 The Wave, Moose Light, TD Canada Trust, Thistle St. Andrews Curling Club and Domino's Pizza.
Mental health and physical health are fundamentally linked – regular physical activity improves psychological well-being and can reduce depression and anxiety. CMHA is the only association in Canada that addresses all aspects of mental health and mental illness. Mental illness has a major impact on our society. Mental illness costs the Canadian economy a staggering $51-billion a year, and one in five Canadians will personally experience a mental illness in their lifetime.
About the Canadian Mental Health Association (CMHA):
As a nationwide, voluntary organization, the Canadian Mental Health Association promotes the mental health of all and supports the resilience and recovery of people experiencing mental illness. CMHA accomplishes this mission through advocacy, education, research and service. The Saint John Office is responsible for providing service to the citizens residing in the greater Saint John area, from Grand Bay-Westfield to Hampton since 1960.