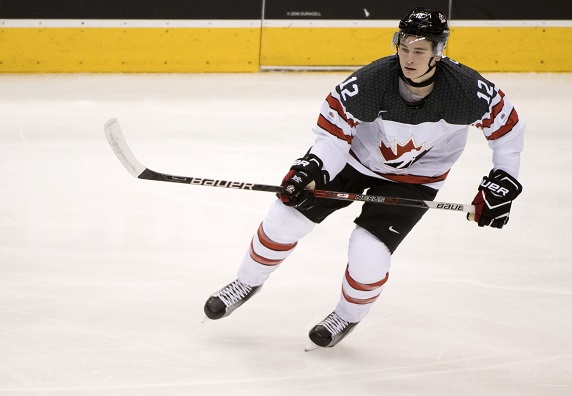 The Saint John Sea Dogs have acquired forward Julien Gauthier from the Val-d'Or Foreurs in a transaction announced on the final day of the QMJHL's holiday trade period.
In return, the Sea Dogs send a 2017 third-round pick (previously acquired from Val-d'Or), two 2018 second-round picks (previously acquired from Val-d'Or and the Sherbrooke Phoenix), a 2019 first-round pick and forward Nathan Cyr-Trottier.
Gauthier, 19, was a first-round selection (21st overall) of the Carolina Hurricanes in the 2016 NHL Draft.
Listed at 6'4″ and 225 lbs., he had seven goals and 27 points in 23 games in his fourth season with the Foreurs. In 207 career games, he has 95 goals and 187 points.
A native of Pointe-aux-Trembles, Quebec, north of Montreal, Gauthier was a member of the 2014 President Cup champion Foreurs. He has seven goals and 22 points in 47 career playoff games, and appeared in four games in the 2014 MasterCard Memorial Cup. He was selected by the Foreurs in the first round (6th overall) of the 2013 QMJHL Entry Draft.
Gauthier won a silver medal for Canada at the 2017 IIHF World Junior Championship, which wrapped up last night in Montreal. He posted five goals and seven points in seven games, playing alongside new Sea Dogs teammates Mathieu Joseph and Thomas Chabot. It was his second straight appearance for Canada at the event.
"We are very pleased to welcome Julien to our team," said Sea Dogs President and General Manager Trevor Georgie. "He's another weapon, a goal-scorer that brings us size and skill. He has also won before at this level and has experience at the MasterCard Memorial Cup. That was important to us, as it was with Simon Bourque and Callum Booth. Julien has continued to add to his toolbox and is coming off a strong, silver-medal performance at the World Juniors where he led Team Canada with five goals. He is excited to be here and will be a key player on our team this season."
Gauthier is one of a QMJHL-high four players returning to Saint John after the World Juniors.
"I have to credit to the management team in Val D'Or," Georgie continued. "This is a good deal for both teams and they have been great to work with over the past few weeks finding Julien his new home here in Saint John."
Cyr-Trottier, 16, has been playing this season with his hometown Trois-Rivieres Estacades of the Quebec Midget AAA Hockey League (LHMAAAQ). He was selected by the Sea Dogs in the fourth round (69th overall) of the 2016 QMJHL Entry Draft.
Tickets for the next Sea Dogs game are available at the Harbour Station Box Office, or fans can save money and buy online.