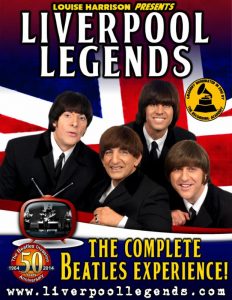 Liverpool Legends "The Complete Beatles Experience!" is coming to Saint John's Imperial Theatre on Friday December 2nd, 2016! Liverpool Legends are four incredibly talented musicians and actors handpicked by Louise Harrison, sister of the late George Harrison of The Beatles. Louise Harrison will be at the Imperial Theatre show! She will be taking questions onstage as well as coming to the lobby post-show with the band to sign autographs!
Louise's involvement in Liverpool Legends makes them the ONLY Beatles Tribute Band with a direct family link to the original Fab Four.
"Each member of the group is so close to the originals that I often feel like I'm transported back in time with the lads. These are exactly the kind of fun loving quality musicians that my brother George would have loved to hang out with," says Harrison.
Liverpool Legends are the ONLY Beatles Tribute band ever to perform Beatles songs on a GRAMMY nominated album.
This year, internationally acclaimed Liverpool Legends toured the world, with sold out performances for over 17,000 people at Arena Ciudad in Mexico City as well as in Guayaquil and Quito Ecuador, India, Israel, Chile and Monterrey.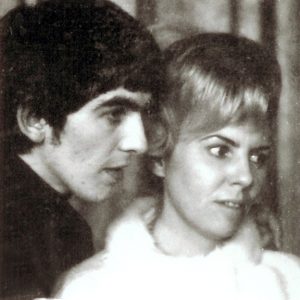 Liverpool Legends headlined at the prestigious Rose Bowl in Pasadena, CA, in front of 68,000 people (an audience larger than The Beatles performed for at Shea Stadium!). Liverpool Legends also received national attention when they re-created The Beatles famed 1966 concert at Busch Stadium in St. Louis.
On March 5th, 2016 Liverpool Legends performed at the world famous Carnegie Hall in New York City where The Beatles performed in 1964 right after the Ed Sullivan Show.
Recently Liverpool Legends were chosen over every other Beatles Tribute band in the world by top television and film producer Jerry Bruckheimer (CSI, Pirates of The Caribbean, National Treasure) to portray the band that changed the course of music and the world forever.
Celebrating their 10th season headlining their own show in Branson Missouri, Liverpool Legends have been awarded Best New Show, Best Band, Best Show, and received the prestigious Visitors' Choice Award for Entertainer of The Year for consecutive years.
Liverpool Legends have performed at many historic Beatles related venues such as The Cavern Club in Liverpool and recorded at the famed Abbey Road Studios in London. They've also performed with Denny Laine (co-founder of Wings with Paul McCartney) and Pete Best (the original Beatles drummer). Liverpool Legends have appeared on The Travel Channel's "Beatlemania Britain" and headlined "International Beatles Week" in Liverpool where 100,000 Beatles fans jammed Victoria Street to hear them in concert.
Liverpool Legends perform songs spanning the entire career of The Beatles and on through the solo years. With precise attention to every musical detail, along with costume changes, vintage instruments and special effects, Liverpool Legends will make you feel like you are watching the real thing! Together, these four lads will bring you "The Complete Beatles Experience."
Tickets to see Liverpool Legends at the Imperial Theatre on Friday, December 2nd at 7:30 pm are on sale now at the following rates:
$50 category 1 / $45 category 2
$41 category 3 / $31 category 4
To purchase tickets click here.