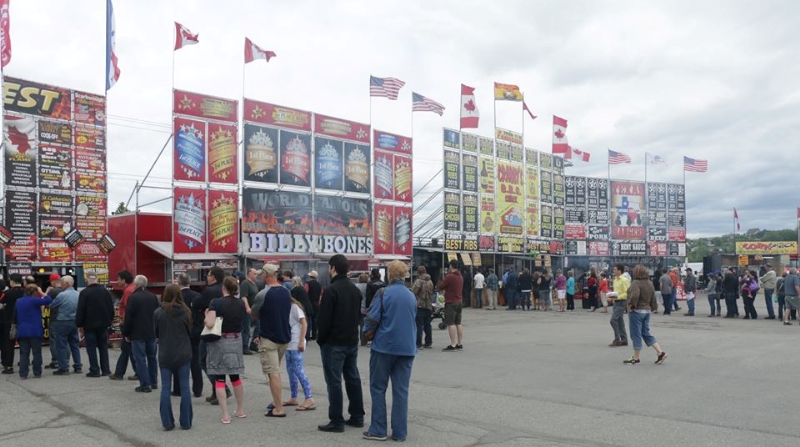 This weekend June 16-19, 2016 marks the return of Loyalist City RibFest for its second annual edition. Featuring four professional Ribbers; various vendors selling everything from french fries, steak, poutine, bloomin onions and desserts; a spectacular indoor Summer Celebration Sale; a beverage tent with a wide variety offered; terrific entertainment all weekend; and parking by donation (shared with at least two other charitable organizations), the second annual Loyalist City RibFest promises to be a terrific time.
Vendors take cash only – but there are ATMs on site. Hours are from 11 am to 11 pm on Thursday, Friday and Saturday and 11 am to 6 pm on Sunday. BBQ, live east coast music, vendors, food, treats, beer, cider, wine, Twisted Tea – what more could you want! BBQ pros will compete for prizes voted upon by a panel of judges, and the People's Choice voted on by you, the consumers.
Loyalitst City RibFest Entertainment Line-Up
Thursday June 16th – 
12-2 pm Mary Beth Marks
3-5 pm Matthew Martin
6-8 pm Whitewater
9-11 pm Surrender
Friday June 17th –
12-2 pm Clinton Charlton
3-5 pm 11th Hour
6-8 pm Brent Mason Band
9-11 pm Mike Biggar and Band
Saturday June 18th –
12-2 pm Dave Myles
3-5 pm Nick Gay
6-8 pm Artifically Hip
9-11 pm Charlie A'Court
Sunday June 19th –
11 am – 1 pm Rock of Ages School of Music
1-3 pm Balysto Steel Band
3:30-5:30 Penalty Box
About Loyalist City RibFest
Loyalist City RibFest was started in 2015 at Exhibition Park when touring pit masters (Ribbers) wanted to put on an event in Saint John. The Saint John Y Men's Club were lucky enough to connect with the Ribbers and have become the hosts, and primary charitable beneficiary of the event.
The Saint John Y's Men's Club was chartered at the YMCA on January 23, 1925. Since it was chartered, the club has been providing a valuable service to the YMCA in Saint John and the community as a whole by raising funds to support many worthwhile community groups, organizations and individuals.
The club's principle fundraising activities include the Real Atlantic Home Show, catering, and now the Loyalist City RibFest.
For more information visit the Loyalist City RibFest website at www.loyalistcityribfest.ca.