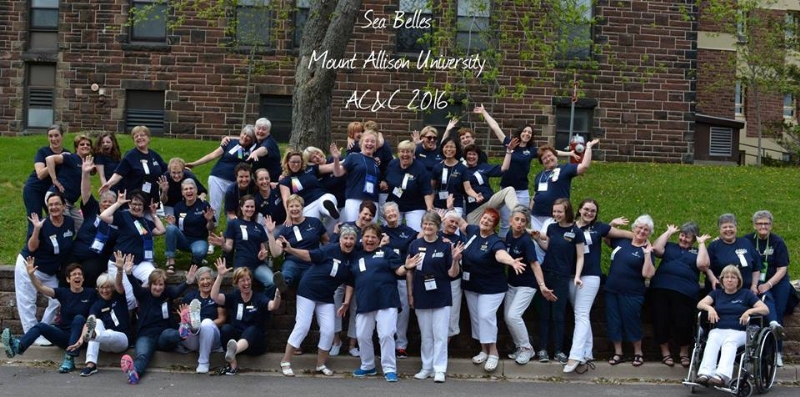 Sea Belles A Cappella Chorus, Saint John, NB chapter of Harmony, Incorporated, an international organization of female a cappella singers specializing in the barbershop harmony style, recently earned regional recognition and qualified for a spot at Harmony, Inc.'s international competition, which will be held in Providence, Rhode Island later this year.
Sea Belles placed third out of more than six choruses in Harmony, Inc.'s Area 1, which includes New Brunswick, Nova Scotia, Prince Edward Island and Newfoundland. This competition took place in Sackville, NB June 3-5, and participants earning a score of a certain threshold are qualified to participate in the international competition of Harmony, Inc. choruses in November.
"Sea Belles chorus rehearses all year to become more masterful at the four-part harmony that characterizes the barbershop style, but qualifying to participate in the International Convention & Contests of Harmony, Inc. is truly an honour," says Susan Ingraham, chapter president. "We plan to build on the success of our area contest showing as we prepare for our international performance, and we're proud to represent the Saint John community among choruses from all across the United States and Canada."
Nova Quattro, based in Saint John, New Brunswick, placed fourth among nine quartets in Harmony, Inc.'s Area 1, and are also qualified to participate in the international competition of Harmony, Inc. quartets in November.
Nova Quattro's members are Linda Oliver, tenor; Marilyn Hickman, lead; Joanne Conrad, bass; and Irene Goddard, baritone.
The members of the quartet also sing with Sea Belles Chorus. Nova Quattro has been performing together for more than seven years and has an extensive repertoire that suits a wide range of occasions and musical tastes.
Harmony, Inc. has hosted area and international conventions for more than 50 years, gathering female singers of all musical backgrounds and experience levels to participate in a series of competitions for quartets and choruses. Participants are adjudicated by a panel of trained judges evaluating categories that encompass what songs the performers elect to sing, the skill with which they sing those songs, and how they present the songs, which can include emotionally connecting with the audience.
"Sea Belles Chorus not only earned area recognition for its performance, but it has also accomplished something equally notable in qualifying to join other choruses at the premier event in Harmony, Inc.'s annual competition cycle," says Sandra Dunlop, Harmony, Inc. president. "This positions Sea Belles as one of the top representatives of our organization, and we appreciate the talent that these women bring to the barbershop harmony genre."
With approximately 55 members, Sea Belles is directed by Janet Kidd of Hampton, NB. The chorus presented two songs at the area contest to earn its placement, I'm Afraid the Masquarade is Over and Alexander's Ragtime Band. These selections are a small sample of the chorus's extensive repertoire, which is ideally suited for a wide range of audiences and events. To learn more about the chorus's upcoming performance schedule, visit www.seabelles.ca.