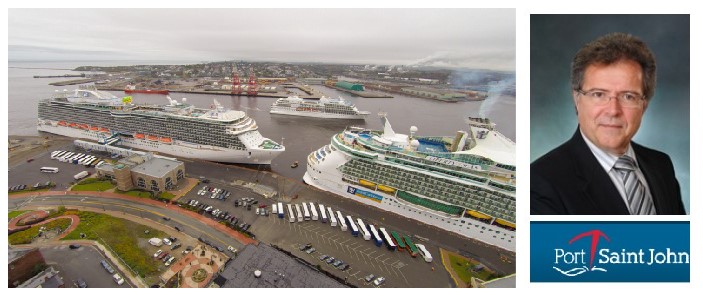 The first cruise ship of the season docks in Saint John harbour on May 9th, 2016 and it will be the beginning of a busy season of calls.
By the time the last ship casts off its lines on October 28th, 64 ships will have visited, bringing with them approximately 144,000 passengers and 57,700 crew.
"Our passenger numbers for 2016 represent an increase of 20% over last year," says Jim Quinn, President & CEO of Port Saint John. "That is great news for Southern New Brunswick, and for its many tourism-related businesses."
This year's cruise ship schedule includes six inaugural calls from ships that have not visited the City of Saint John before. These include Carnival Cruise Line's Carnival Sunshine, Holland America's Rotterdam, Royal Caribbean International's Anthem of the Seas, Hapag Lloyd's Europa 2, Azamara Club Cruises' Azamara Quest, and Phoenix Reisen's Amadea.
Azamara Club Cruises is a new line for Port Saint John. Described as a mid-sized boutique luxury line, their vessel Azamara Quest will dock on October 1st carrying close to 700 passengers.
Blount Small Ship Adventures will also return this year, staying dockside for five days.
Disney Cruise Line also returns to the port city with Disney Magic on October 4th after a four-year hiatus.
"This season we will have eight double-ship days and four triple-ship days," says Quinn. "Our busiest cruise day will be October 19th, when we will welcome 8,900 passengers and 3,500 crew for a total of 12,400 visitors to the city. We look forward to an active cruise season for the many operators both large and small in Southern New Brunswick who depend on this industry."
Cruise activity via Port Saint John represents a $25 million annual boost to New Brunswick's economy.